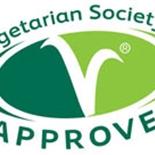 In recent weeks three of our products have attained Gold Taste Awards, 13 certified as gluten free by Coeliac UK, two shortlisted for the prestigious Grocer Awards and now a number of products have been verified as suitable for vegetarians.
The full list of products approved by the Vegetarian Society can be found below with links to where you can find out more about them.
Tracy Hamilton said, "Many people stick to a vegetarian diet and we are pleased that 17 of our products can now carry the 'Vegetarian Society Approved' logo. The list of products includes some of our best selling lines, such as Mashed Potato and Carrot and Parsnip, as well as some of our other great time-savers like the Chilli Baby Bakes. Of course these products are for everyone, not just vegetarians, but carrying the official logo will make it easier for vegetarians to identify them on the shelf."
At Mash Direct we are fussy about vegetables and that is why we grow our own, harvest them daily and steam cook for flavour. There are no artificial additives, colourings or preservatives in our products which makes Mash Direct a convenient, totally natural and nutritious choice for healthy living.
The full list of Vegetarian Society Approved products:
Mashed Potato
Champ
Colcannon
Cheese & Onion Mash
Spicy Potato Wedges
Dauphinoise Potato
Creamy Garlic Potatoes
Chilli Baby Bakes
Cauliflower Cheese
Broccoli
Leeks
Red Cabbage & Beetroot
Green Cabbage
Carrot, Parsnip & Turnip
Carrot & Parsnip
Mashed Turnip