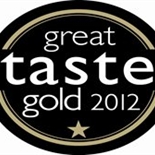 Another three Mash Direct products have been given a UK wide award this week, with Great Taste Awards recognising some of our most popular products. Colcannon (also known as Bubble & Squeak), Green Cabbage and Potato Cakes have all been judged to be "close to perfect" by judges from the Great Taste Awards.
Established in 1994, Great Taste offers a unique benchmarking and product evaluation service for independent food producers and is the largest and most trusted accreditation scheme in the UK.
Mash Direct Managing Director, Martin Hamilton, said, "This year alone, over 8,000 products were blind-tasted by panels of top chefs, cookery writers, food critics, restaurateurs and fine food retailers and I am delighted that our products have been given the gold award.
"These awards are particularly pleasing as they're solely about taste. The judges do the taste testing blind and to be awarded a gold, three different panels have to agree that the taste is fantastic - that's a difficult process but I never had any doubt that our products would do well."
All three products can now carry the Great Taste gold 2012 symbol and this will be added to the packaging over the coming weeks. Keep an eye out for the new packs hitting the shelves in your local retailer.