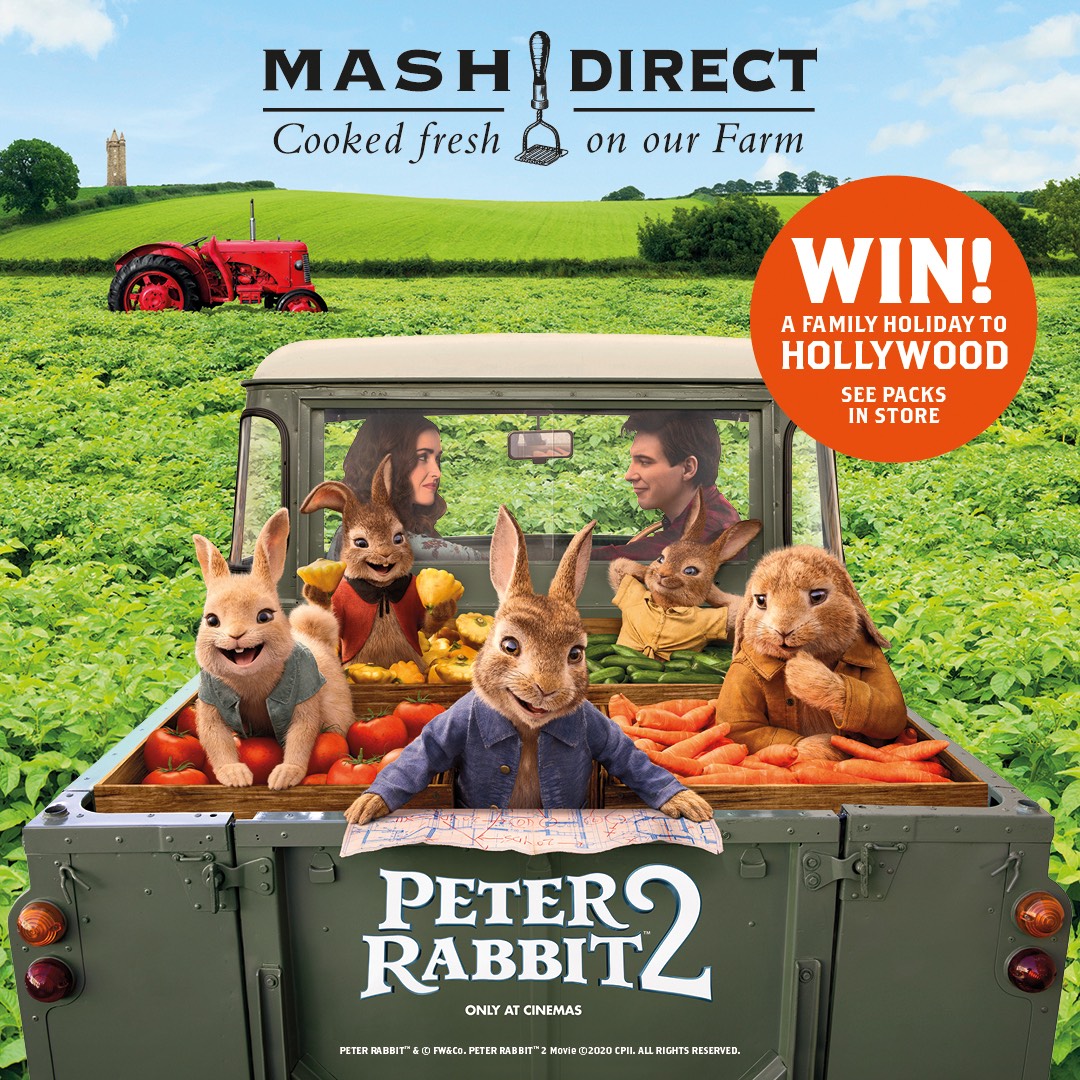 We are celebrating the release of Sony Pictures' Peter RabbitTM 2 movie (out on 27th March), with a range of giveaways including a once in a lifetime trip to Hollywood.
To be in for a chance to win, make sure to pick up selected products from our range, which have been given a makeover and are branded with beautiful imagery of Peter Rabbit and his friends.
The prizes can be won on packs of Mashed Potato, Champ, Carrot & Parsnip, Carrot, Parsnip & Turnip, Bubble & Squeak, Mashed Turnip, Mashed Swede, Potato Croquettes, Potato, Cheese & Onion Croquettes, Carrot & Parsnip Fries, Green Cabbage and Potato Rosti.
One lucky winner will receive a fantastic three night stay in a luxury hotel in Hollywood for a family of four. They will be given an exclusive Sony Pictures studio tour. They will also celebrate with a delicious meal at one of the top restaurants in Hollywood, as well as enjoying an action packed urban farm tour and a self-guided Santa Monica drive in an electric Mini 4X4.
As a committed veg lover, Peter Rabbit is a perfect partner, as we combine six generations of our family farming expertise to create an extensive range of delicious and award-winning 'field to fork' vegetable accompaniments. Everything is created fresh on our farm with the true taste and texture of home cooking and we have received 22 Great Taste Awards thus far.
Our range is ideal for families and children as each dish is low in saturated fat, gluten-free and free from artificial flavourings and colourings. Available in multiple retailers, you can find your local stores using our Where To Buy section of the website.
Jack Hamilton, Chief Operations Officer at Mash Direct comments: "We are excited to be partnering with Sony Pictures again for the launch of Peter RabbitTM 2 in the UK. Peter Rabbit is one of the most iconic characters who loves vegetables and we hope this collaboration encourages more families to incorporate delicious and high quality veg in their daily diet."
Barbara Murphy, Head of Distribution in Ireland at Sony Pictures said: "We are delighted to team up with Mash Direct again ahead of the release of the much anticipated Peter RabbitTM 2 this Spring. Peter Rabbit is renowned for getting up to mischief, but is also synonymous for fresh field vegetables! The on-pack promotion is the perfect way to engage families and encourage healthy eating whilst giving them the chance to win prizes in connection with one of our most lovable characters."
Peter RabbitTM 2 is in cinemas from 27th March 2020 and our on-pack promotion will run in supermarkets until 3rd April 2020.
To enter the competition, individuals will need to visit www.mashdirect.com/peterrabbit2, and fill out our form and enter a promotion code that can be found on the clear plastic film to be in with a chance of winning.