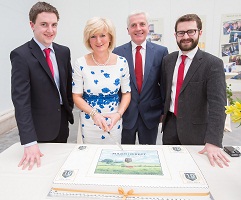 We held a big celebratory bash at Mash HQ in April to commemorate our tenth year in business and were very privileged to have a number of distinguished guests and family present. In particular, we were honoured to have Martin's uncle, Mr David Hamilton, speak fondly about our journey. We were so touched by his kind words that we wanted to share them with you all.
Thank you David for your wonderful sentiments.
Ladies and gentlemen,
As the most senior member of the Hamilton family here today, I would like to say a few words of thanks to Martin and Tracy for their kind invitation to attend this celebration.
Jean and I are very happy to have been included and we are very proud of Martin and Tracy's achievements.
The Hamilton family have farmed in the Comber area for at least 6 or 7 generations. However, farming has changed considerably through the years. New machinery, new crops, new methods of working and increased competition from abroad have created greater challenges than ever before.
Martin, I am sure that if your grandparents or great grandparents were here they would not recognise or even understand many of the issues you have to face as a commercial grower. Nevertheless, they could not fail to be impressed by your hard work and success.
Jean and I would like to wish you and your team continued success with Mash Direct and congratulate you on your tenth anniversary.