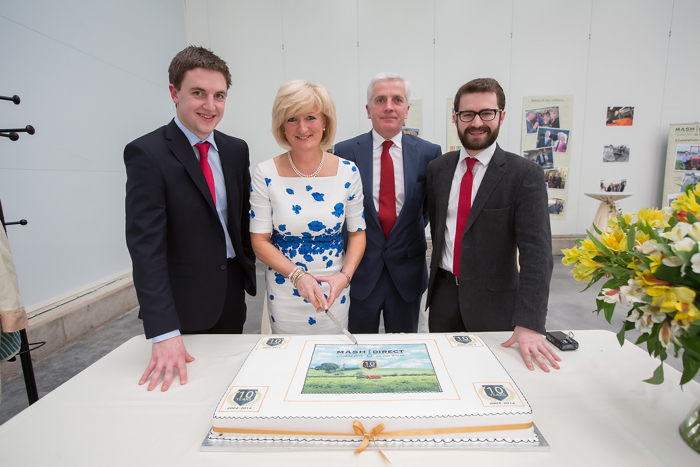 We celebrated ten years in business this week!  To mark the occasion we hosted an event at our new factory to celebrate diversifying from a small family farm into an award winning household brand.
In attendance were Enterprise Minister Arlene Foster and Finance Minister Simon Hamilton who praised us for our achievements over the last decade and for our continued commitment to innovation with the launch of their new Vegetable Burger range.
Minister Foster said: "Mash Direct is a superb example of how the enterprise has transformed from a small family farm into an award-winning and increasingly successful exporter.
"Martin, Tracy, Lance and Jack have shown outstanding commitment to both their family-run enterprise and the food industry. Their dedication is a source of inspiration to others in the farming, food and business communities.
"Innovation and new product development have been at the forefront of the business. Their innovation, 'taking the food from field to fork', has led to Mash Direct being highlighted as an industry leader and to have achieved so much in such a short space of time is outstanding.
"This is a remarkable success story of a company which is now a market leader in vegetable accompaniments with an impressive range of convenience meals and 'food to go' dishes which use potatoes and vegetables grown on the family farm. Mash Direct products are currently exported to Europe, the US and the United Arab Emirates.
"Mash Direct's exceptional achievements in markets outside Northern Ireland and their expertise in new product development and manufacturing, have led to an impressive list of international awards the most recent being in the UK 'Free From' Food Awards at the end of March."
"Endorsements from influential bodies such as the UK Guild of Fine Food, Food Manufacturing Excellence, Deloitte, Quality Food Awards, and The Grocer are testimony to the professionalism of the business and the outstanding quality of all the products," added Minister Foster.
Ulster/Ireland Rugby, star Rory Best, also a fan of Mash Direct, brought the Six Nations trophy with him to the tenth anniversary event.