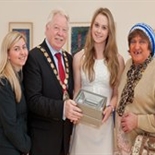 Ards has honoured five 'women of achievement' in an awards ceremony to recognise the successes, progress and attainments of local women.
Veteran entertainer, May McFetteridge, was guest speaker at the fifth annual Women of Achievement awards, organised by Ards Borough Council, and held on International Women's Day (8th March 2012), the day dedicated world-wide to highlight women's equality and inspire women to achieve their full potential.
Swimmer, Sycerika McMahon, was named as 2011 'Young Woman Achiever' after a remarkable year which saw her win 3 medals in the European Junior Championships, 5 at the Commonwealth Youth Games and reach the semi-finals of the 50m breast stroke at the world championships in Shanghai. More recently she was only 0.7 seconds off the Olympic qualifying time in the 100m breast stroke.
Commenting on the awards, member of the judging panel, Councillor Deborah Girvan, said:
"I was completely bowled over by the quality and high standard of the applicants who were entered for the Women of Achievement Awards and consider it an honour to have been in the company of some truly inspiring local women. Too often our unsung heroines never get the recognition they deserve for quietly working away in the background and making such a difference to the lives of others. All of our winners deserve to be recognised, but would never seek out the limelight and I'm privileged to have been part of the programme which acknowledges their achievements. My congratulations go to all our winners and thanks go to our sponsors - the Eakin Group, Mash Direct, Pritchitts and Warden Bros – for their support of the awards scheme once again".
 The Women in the Community Awards were sponsored by The Eakin Group and the Mayor of Ards, Councillor Mervyn Oswald. The Women of Determination Award was sponsored by Warden Brothers, while the Inspirational Woman Award was sponsored by Pritchitts and Mash Direct sponsored the Young Woman Achiever award.