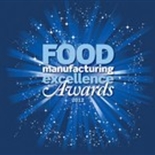 Mash Direct is pleased to announce that we have been shortlisted for two awards at the Food Manufacturing Excellence Awards.
The Food Manufacturing Excellence Awards shortlist was drawn up by a panel of industry experts and recognises outstanding products across 13 categories. Mash Direct has been shortlisted in the Chilled and Fresh Company of the Year and the prestigious Small Company of the Year categories. The awards will be presented at a Gala Dinner at Hilton Hotel on Park Lane, London on the 5th of November.
Tracy Hamilton said, "We are delighted to be shortlisted for these prestigious awards.  As we are the present the holders of The Chilled Manufacturing Company of the Year it is a phenomenal achievement to be shortlisted yet again in this highly competitive category. This is a wonderful endorsement of the continued effort and commitment by all at Mash Direct to maintain the highest standards - a great team effort."
For more details about the awards, visit the Food Manufacture website.