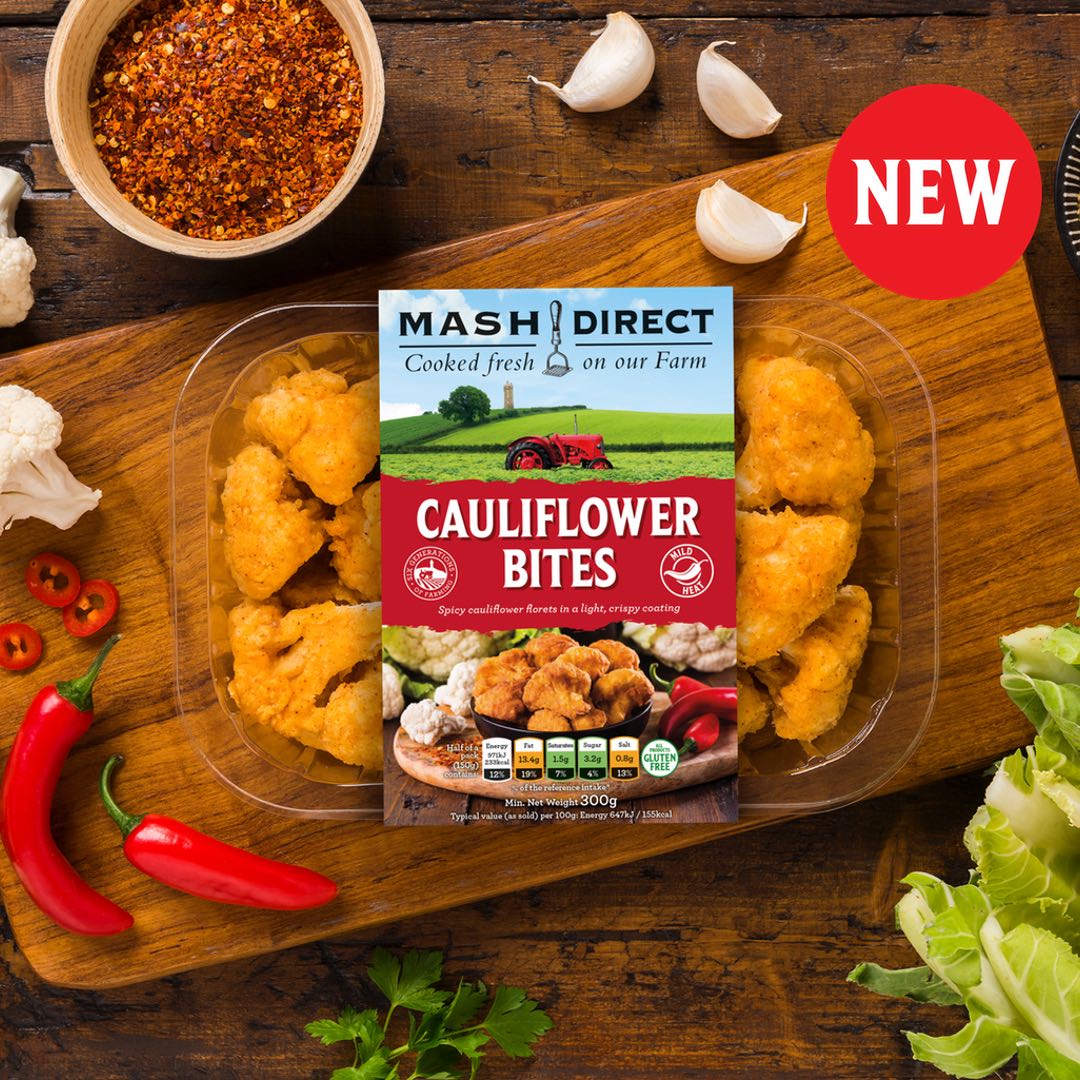 Introducing our 55th product to the range – our NEW Cauliflower Bites!
Our new Bites tap into the growing demand for innovative cauliflower products and are currently available in stores throughout Northern Ireland. You can find these in the Ready Meals/Meal Accompaniment aisles in store.
We have been working hard in the kitchen, developing new products to add to the plethora of over 50 products available on the marketplace. Utilising six generations of our family's farming expertise, our vegetables are gently steam cooked immediately after harvesting, guaranteeing an unrivalled freshness of flavour with no compromise on either the nutritional benefits or natural texture of the vegetable.
Our Cauliflower Bites are freshly cooked cauliflower florets, fried in a light, crispy coating, with a mild spice. Cooking in just 20 minutes in the oven, these Cauliflower Bites are low in saturated fat, gluten free and free from artificial colourings and flavourings. The light and crispy coating gives our Bites a crunchy texture, and at only 233 calories per serving, this highly versatile dish can be served as a canapé when entertaining, or as a main meal with a fresh salad and steamed vegetables.
Speaking with Lance Hamilton, Sales Director: "We are pleased to be adding the Cauliflower Bites edition to our award-winning vegetable accompaniments range. We have seen a huge surge in demand for cauliflower in the UK in recent years, as it is a really delicious and versatile vegetable. The Cauliflower Bites align with a number of eating occasions as they can be served as a canapé and are also delicious as the main component of a meal. The Cauliflower Bites will continue to fulfill our mission to bring innovative, healthy and high-quality products to consumers and our retail partners."
Our Cauliflower Bites are available now in SPAR, EUROSPAR, VIVO, VIVOXTRA, SuperValu, Mace, Centra and independent stores across Northern Ireland.