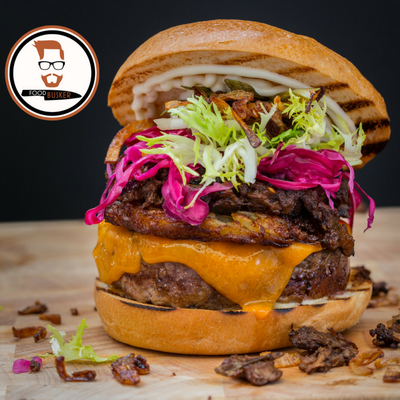 We have teamed up with Celebrity Chef and Youtuber, John Quilter, aka The Food Busker who cooked up a storm in Belfast's Cathedral Quarter, creating a Masher-Piece of a Burger featuring our very own Potao Rosti! Having launched an award winning coffee company and starred in the TV series Food Junkies, John Quilter now has over 100,000 subscribers to his Youtube channel, Food Busker, a joint venture with Jamie Oliver.
Food Busker's concept is simple yet enticing - he cooks up fresh ingredients on the street and then guesses how much passersby will be willing to pay after trying his street food dishes. His latest release, following a recent visit to Northern Ireland is a mouth watering Beef Brisket Burger with Mash Direct Potato Rosti - the perfect mash up!
We've loved working with the Food Busker and can't wait to work alongside him again in London in the next few weeks.
We know you'll all be dying to try one of these tasty burgers so we thought we would give you the inside scoop and provide you with the EPIC recipe. Click here to check it out!
One more thing... make sure you watch the finished Food Busker video where you will see how the people of Belfast reacted to the mash up of Beef Brisket and our very own Potato Rosti. Click here to watch the full video!