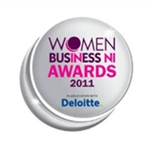 Mash Direct's very own Tracy Hamilton is a finalist in the Women in Business NI Awards 2011 which take place Thursday 17th November at the Ramada Plaza, Belfast.
The Women in Business NI Awards celebrate all the inspriational business women in Northern Ireland that have been making an imapct in their chosen industry. Tracy's dedication to the Mash Direct brand has helped drive the company from strength to strength and she has been nominated for the Award for Best Marketing and Communications.
Everyone at Mash Direct would like to congratulate Tracy on being chosen as a finalist and wish her all the best for the awards next Thursday!