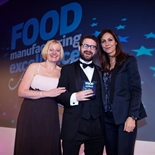 Mash Direct has won the coveted title Most Innovative Small Manufacturing Company of the Year in the industry Oscars – Food Manufacture's Food Manufacturing Excellence Awards (FMEAs), at the London Park Lane Hilton in a glittering awards ceremony last night (November 21).
The achievements of the Northern Ireland food manufacturer were recognised in front of hundreds of industry guests, as its Director, Jack Hamilton received the award from Mary Hunter, MD with category sponsor Columbus. They were joined on stage by awards presenter and TV Countryfile star Julia Bradbury.
2013 has been a hugely successful year for the County Down business. This year Mash Direct have started exporting to Dubai and Abu Dhabi and now stock Asda stores across England. This success has been recognised at high levels with the Secretary of State for Northern Ireland, Theresa Villiers, paying Mash Direct a visit this month.
The Company has developed the chilled vegetable sector with commercial success being built on a strong technical and engineering background. This year Mash Direct achieved its fifth consecutive A+ grade BRC accreditation from the prestigious SAI Global Organisation. It is one of only two ready meal companies in the whole of the UK to achieve the A+ grade this year and the only one in Ireland.
The award judges – led by judging panel chairman Paul Wilkinson – praised Mash Direct's steady growth and product innovation.
The judges said: "Not only has Mash Direct invested to enable it to meet current demand for its products, it has also launched a number of new products designed to grow its business further afield."
Rick Pendrous, editor of Food Manufacture, said: "The FMEAs go from strength-to-strength each year in recognising top achievement in the field of food and drink manufacturing. Mash Direct's holistic approach to expansion and its comprehensive entry made it stand out from other companies this year."