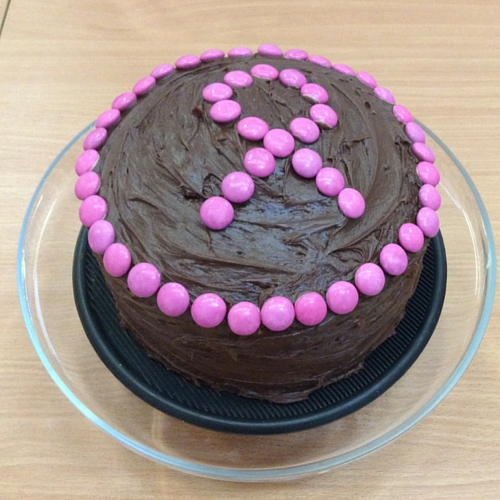 As part of breast cancer awareness month the Mash Direct team took part in Wear Pink to Work and had a Pink Afternoon Tea Party for Cancer Focus NI to raise money for Breast Cancer Research.
Breast Cancer is now the most common form of cancer in women in Northern Ireland.  Over 1,000 women are diagnosed with the disease each year, but survival rates are steadily improving. Today, there are around 10,000 women with a diagnosis of breast cancer living in Northern Ireland.
During the month of October Cancer Focus NI highlight the help available to women who have been diagnosed with breast cancer.
What can we say! We all had a fantastic day dressing up in pink, eating lovely treats and most importantly raising money for such a great cause.
Thank you to Rosie from Cancer Focus NI who came down to the farm to meet the team and enjoy some buns.
A massive thank you to the whole team who made today very special!  From dressing up in pink, baking yummy treats, donating prizes, organising the tea party and for all your generous donations. It was a day full of fun and great effort was put in by everyone all for a fantastic cause.
Special thanks to ShortCross Gin for donating the prize for the "Pinkest person." Find out more about Cancer Focus NI and the difference they make at: http://www.cancerfocusni.org/