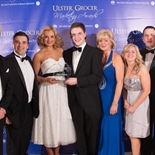 We are thrilled to announce that we won the Best Brand Award at the Ulster Grocer Awards on Friday night as well as the Highly Commended Award for Food Export Marketing!  As we head towards our tenth year it means so much to us to win these awards and they will drive us on towards more innovative ideas, products and marketing campaigns.
From an initial route to market of a stand in St. George's market and van sales to winning Best Brand is a huge accolade and a recognition of the hard work that goes on at Mash Direct.  Martin Hamilton, the founder and Managing Director, said "It is incredible to win such a prestigious and competitive award.  It is a tough category and I am extremely proud of our achievement".
"This is a fantastic endorsement of the hard work and commitment by everyone at Mash Direct to achieve the highest standards.  We pride ourselves on being a unique and innovative company and are always prepared to break convention with new ideas and strive to be the best in the market. A key element of this has been our focus on driving the business forward with innovative marketing strategies and expanding the Brand."
In addition to the Best Brand Award, we also picked up the Highly Commended Award for our Food Exports for our success in the United Arab Emirates as well as increased sales in England, Scotland, Wales and the Republic of Ireland.   Our recent exports to Dubai have been especially exciting!
Photograph (click on the picture to enlarge):
L- R: Martin Hamilton (Managing Director, Mash Direct), Sponsor Ryan Mc Farland (Customer Business Manager, NI Bacardi Brown-Forman Brands), Tiffany Brien (Miss Northern Ireland) pictured with the Mash Direct Team: Lance Hamilton, Tracy Hamilton, Clare Forster, Stanley Hill and Kathryn Graham at the Ulster Grocer annual Awards ceremony.