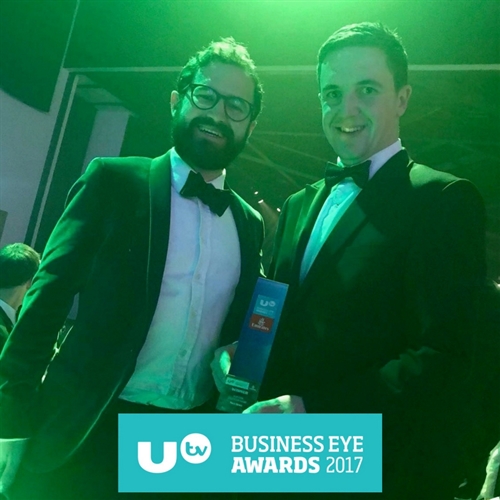 We are happy to announce that we have won the Agri-Food Innovation Award at UTV's Business Eye Awards 2017.
Brothers, Jack and Lance Hamilton, received the award last night at a glitzy ceremony at Belfast Waterfront attended by other local, Northern Irish businesses to celebrate their achievements.
In it's tenth year, UTV and Business Eye partnered to bring the award ceremony in conjunction with Emirates. Hundreds of entries (across 17 different categories) were judged by: UTV's Business Correspondent Jamie Delargy, Business Eye Editor Richard Buckley, as well as the Business Editor of Irish News, Gary McDonald.
Noted for our strong use of digital marketing and innovation within the agri-food sector, we were also commended for the quality of our vegetable side dishes.
Jack Hamilton, Marketing & Exports Director, said "We are delighted to receive this award. We've long been a supporter of the UTV Business Eye Awards and the opportunity it gives to local companies to be recognised for their achievements. Congratulations to the other winners and to everyone back at the farm. It's fantastic that our passion for making healthy, convenient, vegetable side-dishes is being commended, not just by our customers but by other industry professionals too."
For more information about UTV's Business Eye Awards please visit: http://utvawards.businesseye.co.uk/winners/.