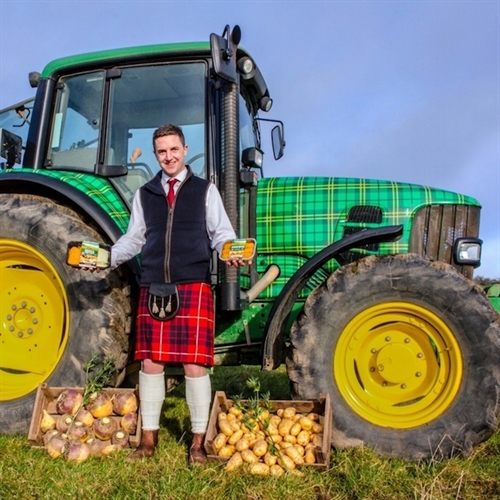 To celebrate Burns Night and the launch of our new product 'Burns Bites', we wrapped our John Deere tractor in tartan! This year's Burns Night, celebrated on the 25thJanuary, will mark the 258th anniversary of the birth of our national bard.
Over the past few years, there has been a significant increase in the number of people celebrating Burns Night and hosting their own Burns Night Suppers. While there are a number of Burns Night products currently on the market, these are mainly sold as individual products i.e Haggis, Neeps (Mashed Turnip/Swede) and Tatties (Mashed Potato) making up the components of a Burns Night Supper.
Innovation is at the very heart of what we do and in November 2006, we launched a seasonal line for Burns Night, offering a twin pack of 'Neeps & Tatties'. This product has sold successfully in supermarkets across Scotland & the UK as a meal solution alongside traditional Scottish Haggis.
We are excited to launch a new product just in time for the Burns Night celebrations. Our 'Burns Bites' celebrate the flavours of the occasion, bringing together their award winning Neeps and Tatties with traditional Scottish Haggis. These are coated in a crispy, gluten free crumb which is a unique offering as there are no other products like this available in the market place.
Lance Hamilton, Sales Director at Mash Direct, said "This year we decided to innovate new products for the Burns Night period following an increase in the number of consumers celebrating Burns Night throughout Scotland & the UK. We are excited to launch our new Burns Bites to the market. We hope everyone has a great Burns Night."
Mash Direct Burns Bites and Neeps & Tatties can be found in Tesco Scotland, Morrison's Scotland, Nisa Scotland and Independents throughout Scotland.
Click here for more information on our new Burns Bites or Neeps & Tatties.