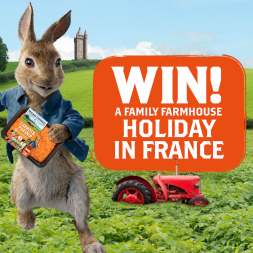 Peter Rabbit, the mischievous hero who has captivated generations of readers, now takes on the starring role in this Spring's must-see movie, in cinemas March 16th, and we have pledged to help him on his way with some carrots! We are promoting the release of Peter Rabbit with giveaways, detailed on-pack, including a daily win of a 'Grow Your Own Plant' kit and the chance to win a luxury, holiday of a lifetime experience to a family farmhouse in France.
We diversified our family farm back in 2004 to create healthy, gluten-free, vegetable side dishes that have the taste and texture of homemade food.  Peter Rabbit has teamed up with the most award-winning carrots on the shelves (we have 19 to their name) so look out for promotional packs and social media competitions to win tickets to exclusive screenings.
Speaking with Director, Jack Hamilton: "Everyone has grown up with Peter Rabbit which makes us very excited about working with Sony Pictures as Peter Rabbit makes his hop to the big screen! We love our veg and want to help the nation to eat healthier and make better food choices. Our competition prizes will hopefully get people buying more vegetable products and get children interested in how plants grow with our fun prizes. Look out for our promotional packs in supermarkets near you, our billboards around the country and listen out for further details on the radio."
Barbara Murphy of Sony Pictures, said: "We are delighted to team up with Mash Direct ahead of the release of Peter Rabbit this Spring. The promotion is the perfect way to engage families in healthy eating whilst giving them the chance to win prizes in connection with one of our most lovable characters."
Click here to enter our competition.
Peter Rabbit™ is in cinemas from March 16th 2018 and our on-pack promotion will run in supermarkets from 1st February 2018 until the 31st March 2018.