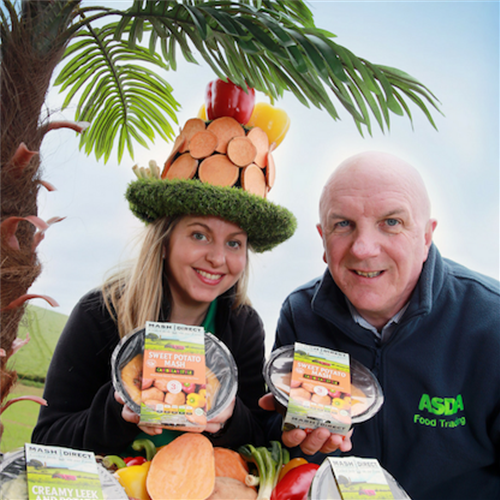 We are delighted to have agreed a significant new contract with Asda to supply five new lines of our award-winning produce to selected Asda stores in Northern Ireland.
We have extended our offering of easy-cook traditional vegetables with three new product developments – Sweet Potato Mash Caribbean Style (350g), Leek and Potato Mash (350g) and Roast Potatoes (400g).
Shoppers with larger families will also be able to enjoy a wider range of exclusive to Asda pack sizes with the introduction of our Mashed Turnip (1kg) and Carrot and Parsnip (1kg) – which are all steam-cooked to retain the taste, texture and nutritional benefits of the vegetables.
"We put six generations of farming expertise into all of our products," said Clare Foster, Head of Marketing at Mash Direct.
"Made using heritage vegetable varieties, chosen for flavour rather than appearance, the popularity of our locally-sourced range has seen Mash Direct grow into a £16m turnover company – with continuing expansion plans, including the recent completion of a new 25,000 square foot on-site factory.
"Mash Direct is delighted to build upon its existing relationship with Asda. By working closely with the retailer over the past 10 years, including initiatives such as the Supplier Development Academy and the Sustain & Save programme, we have gained an understanding of what the Asda shopper is looking for, and are able to respond with new and innovative products."
Regional Buying Manager for Asda NI, Brian Conway, added: "With over 120 award wins and 23 products already listed on our shelves, Mash Direct's popularity with our customers is evident.
"By answering consumer demand for easy-to-prepare dishes which are free from artificial colourings, flavourings and preservatives, Mash Direct side dishes offer convenience and value for money – as well as a tasty addition to any dinner table. The new Caribbean sweet potato dish is sure to be an instant hit!"
Our product lines are available in selected Asda stores now.
To take a look through our entire product range, click here.
This story got us press coverage in The Irish News