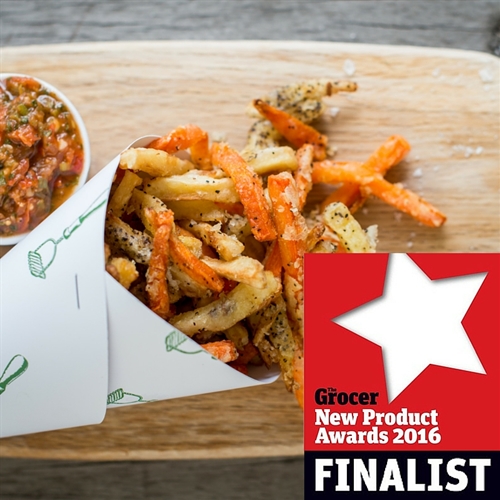 We are thrilled to announce that our Carrot & Parsnip Fries are finalists in The Grocer New Product Awards 2016. We are proud to say that this will mark the fifth year in a row in which Mash Direct has been shortlisted for The Grocer New Product Award, with our Vegetable Burgers and Potato, Cheese & Onion Croquettes winning in 2015 & 2014!
The Grocer New Product Awards celebrate and reward outstanding innovation in the UK FMCG sector in both non-food and food categories and is without doubt one of the most respected awards in the industry. Our Carrot & Parsnip Fries have been shortlisted in the Meal Accompaniments category alongside Albert Bartlett Rooster Homestyle Chips, Aviko Rib Cut Sweet Potato Fries, Heinz 50% Less Sugar Beanz, Jazzy Potatoes and My Skinny Easy Cook Basmati Rice.
Martin Hamilton, Managing Director of Mash Direct, commented, "Our team work hard to ensure Mash Direct remain at the forefront of food innovation, so this nomination is an excellent recognition of their efforts. With our Carrot & Parsnip Fries, we wanted to offer a healthy, sweet alternative to chips. We hope the judges enjoy them as much as we do!"
We will be attending the awards on Friday 7th October 2016 at Marriott Grosvenor Square, London.
To see a full list of all the 2016 finalists and find out more about the awards, click here.