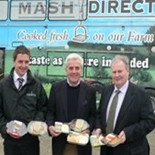 Following a series of meetings focused on the Northern Ireland's potato industry Ulster Farmers' Union (UFU) deputy president Harry Sinclair has said the potato sector is, and will continue to be an important part of Northern Ireland's agriculture industry.
"Our growers' consistently produce high quality, fresh produce and this is something to be proud of," he continued. "Also, the recent granting of Protected Geographical Indication (PGI) status to the early Comber Potato can only serve to bolster the industry."
Recently, representatives from the UFU met with potato and vegetable farmer Martin Hamilton to hear more about how he diversified his farm business and created Mash Direct Ltd back in 2004.
Mr Sinclair continued: "The story of Mash Direct is a good news story for both the potato and vegetable industry. Here is a farmer who is knowledgeable and passionate about producing local quality produce. He spotted a gap in the market and took the opportunity to grow and develop his business.
"Back in 2004, Martin and his wife Tracy began to take steps to diversify and set up a small production facility on the family farm in Comber, Co Down.
"Since then Mash Direct has gone from strength to strength and the business has had to expand in order to meet demand.
"Today Mash Direct and its farm employs over 110 people, in Northern Ireland and across the UK, and approximately 60% of Mash Direct's potato and vegetables are grown on farm.
"They work hard to source the other 40% locally in Northern Ireland, although this isn't always possible especially when you consider seasonality.
"They put a substantial amount of potatoes and vegetables through the factory daily and all of their products are steam cooked and packaged on the farm in Comber.
"Impressively and encouragingly, Mash Direct has continued to increase their market share each year and their products can be found in most of the major supermarkets across the UK and Ireland.
"Mash Direct is one of many local processors in Northern Ireland and while it may not be possible for all potato growers to replicate this model to grow and process it is an inspiring story.
"My advice to potato producers is to keep a close eye on market trends and to ensure they are only growing enough to meet demand.
"Producers also need to be strong sellers of the high quality product they are producing and push for the best possible price from processors, packers and retailers.
"Potatoes remain an important part of our diet and consumers want to be able to buy locally grown potatoes.
"There is no better time than the present to recognise the efforts of our producers and support this industry going forward in 2012."