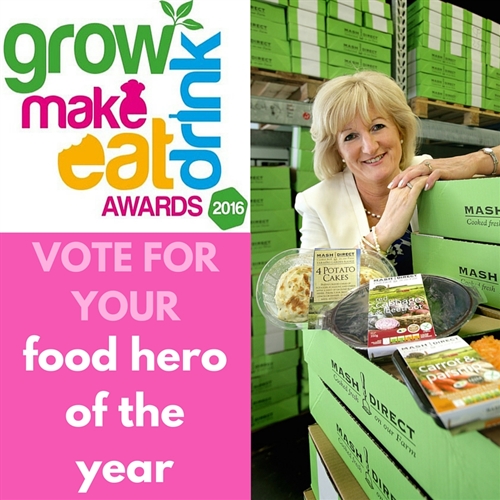 We are delighted to announce that Tracy Hamilton, Director at Mash Direct, has been nominated for Food Hero of the Year in the Grow Make Eat Drink Awards 2016! Tracy is honoured to be nominated alongside some outstanding individuals for her contribution to the Northern Irish food industry. The other nominees include; Bill Duncan - Head Chef Foyle Hospice, Gary Andrews - CAFRE, Emmett McCourt - Chef & Author and the Causeway Coast & Glens Food Network.
To vote for your Food Hero of the Year simply text 85100 with the code of your nominee -
Tracy Hamilton, Mash Direct - "NL HERO 4"
Bill Duncan, Head Chef Foyle Hospice - "NL HERO 1"
Gary Andrews, CAFRE - "NL HERO 2"
Emmett McCourt, Chef & Author - "NL HERO 3"
Causeway Coast & Glens Food Network - "NL HERO 5"
*Cost per text is 25p. Text line closes at midnight on Tuesday 19th July 2016
Why should Tracy be awarded Food Hero of the Year?
Tracy's life in food started by setting up a small market stall in Greyabbey in 1981 to sell vegetables from her husband Martin's farm. In 2004 Tracy and Martin diversified their family farm to produce vegetable side dishes which they sold at local independent stores around Strangford Lough and St George's market.
Mash Direct now employs over 180 people in Comber with a turnover of £15m and supplies major retailers in the UK and Ireland as well as exporting to Dubai, Abu Dhabi and Bahrain.
Tracy has shown outstanding commitment to her family-run enterprise and is a tireless ambassador for the Northern Irish Food Industry. As the first woman to sit on the Board of NIFDA (Northern Ireland Food and Drink Association) and also a Board member of the Food NI, Tracy is passionate about promoting local food. Tracy is also an active member of Women in Business and The Institute of Directors.
She is an active volunteer of the Mencap Special Events Committee organising high profile events for the last 30 years. Tracy was recently awarded an Associateship of Royal Agricultural Societies (ARAgS) in recognition of her contribution to the practice and development of agriculture in the UK.
Fingers crossed for the Grow Make Eat Drink Awards on Thursday 11th August.