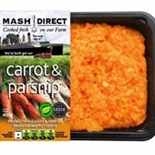 Northern Ireland is going Titanic crazy with the 100 year Titanic anniversary fast approaching.
To honour this occasion we have decided to launch limited edition sleeves. They will be on our  Mashed Potato, Mashed Turnip and Carrot and Parsnip products for whole of April.
Titanic was launched in Belfast Lough on 31 May 1911 by Harland & Wolff, then the largest shipyard in the world.
To commemorate the event a religious service will be held at the docks and a flare will be set off at 1213 BST, the exact time of the launch a century on.
The passenger liner sank after hitting an iceberg on her maiden voyage from Southampton to New York in April 1912.
It took three years to build the RMS Titanic and just 62 seconds to complete the launch.
More recently £7bn has been invested in Belfast's Titanic Quarter and an interactive visitor centre is due to open in 2012.
An exhibition about the Titanic will run at the Ulster Folk & Transport Museum until 31 August.
Niall Gibbons, chief executive of Tourism Ireland, said: "No ship has gripped the world's imagination like RMS Titanic.
"Her remarkable story begins at her birthplace in Belfast, and we highly recommend visitors to Belfast to discover the story of her creation through this exhibition."