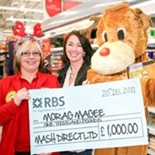 Congratulations to Christine Bergles from Blanchardstown, Dublin, Morag Magee from Coatbridge, North Lanarkshire and Erica Zagorac from Essex who all found one of Santa's Reindeers inside our Mash and have won £1000!
That means there is only one remaining Reindeer hiding inside either our Mashed Potato, Carrot & Parsnip or Red Cabbage & Beetroot. Are you in for a very festive surprise this Christmas Day?!
If you think you have found the last of Santa's Reindeers follow the link below to our Competitions page and fill in your details!