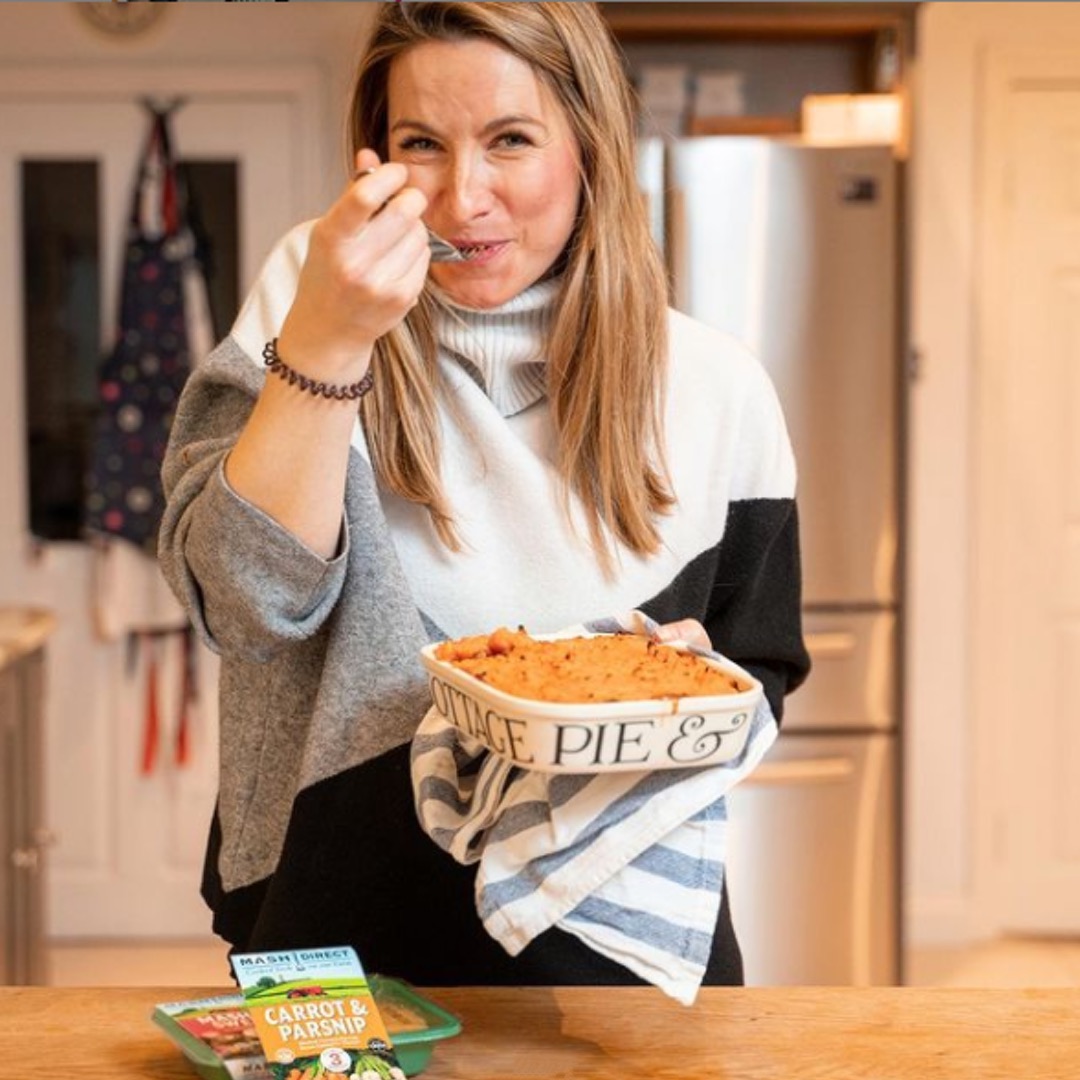 We asked renowned dietitian, Charlie Watson aka The Runner Bean, for her Top 10 Healthy Tips to inspire our followers to adopt a healthy lifestyle. Check out Charlie's fantastic advice below!
Start Off Your Day In The Right Way 
Kick off your breakfast with a portion or two of veg. Whip up some mashed avocado, mushrooms, asparagus or grilled tomatoes with your eggs, or try making a savoury porridge with spinach, mushrooms and an egg (extra cheese is optional). Mexican style brekkies are always a great source of vegetables; sweet potato hash, tomato baked eggs and breakfast burritos.  
Blitz It Up  
Adding fresh or frozen spinach, kale, avocado, cucumber, courgette or broccoli to a fruit smoothie gives an easy portion of veg as an anytime snack or post-workout recovery drink.  
Pie Topping  
Whilst white potatoes don't count as one of your five-a-day, sweet potatoes and starchy vegetables like swede and parsnips do, and make a great pie topping! Use Mash Direct's Carrot & Parsnip Mash or Swede Mash on meat or veggie pies for a speedy topping, and one of your 5 a day!  
Unlikely Additions  
There are some surprising additions that can be counted as one of your five per day, eg tomato puree, spaghetti hoops, baked beans, fresh vegetable juice/smoothie (up to 150ml). Perfect to add to your evening meal to top up. 
Bulk It Out  
Low in fat, high in protein and fibre, beans and pulses count for up to 1 of your 5 per day. Chickpeas, lentils and beans are a great way of adding in fibre and protein to help keep you full, plus vitamins & minerals into your diet.  
Save Time  
Buying pre-prepped fruit and vegetables can save valuable time when meal prepping and cooking. Utilising pre-cut vegetables, stir fry mixes, Mash Direct's Carrot & Parsnip Mash,  and side dishes, such as Broccoli with a Cheese Sauce are a quick way of adding in another portion to your evening meal.  
Eat the Rainbow  
The more colourful your plate of vegetables, the better! The phytochemicals that give fruits and vegetables their bright colours are antioxidants that are believed to protect our cells from damage. Enjoying a variety of vegetables on your plate also provides a variety of vitamins and minerals.  
Vitamin C - peas, green and red peppers, broccoli, brussels sprouts, leafy greens 
Vitamin A - leafy greens, sweet potato, carrots, squash  
Vitamin K - leafy greens, Brussels sprouts, broccoli, cauliflower, and cabbage 
Vitamin B - legumes, broccoli, dark leafy greens, avocado   
Vitamin E - avocado, red pepper, sunflower seeds, almonds  
Vitamin D - mushrooms, soy beans (although it's still wise to supplement during winter months as per NHS guidelines)  
Snack On It  
Use your snacks as a perfect opportunity to add in an extra portion of vegetables. Keep chopped carrots or celery or cucumber sticks in the fridge for easy on-the-go snacks. Don't have facilities for keeping them chilled? Try dried vegetables, such as homemade vegetable crisps, roasted corn or chickpeas.  
Dips 
Making your own dip or salsa can be a fun, tasty way to add in a portion of vegetables. Make up a quick guacamole, tomato salsa, hummus or bean dip to enjoy with crudites, pitta, or serve alongside meat, fish or veggie alternatives.  
Store Cupboard Staples 
Utilise your cupboard and freezer to store tinned and frozen fruit and vegetables. Oftentimes frozen and tinned fruit/vegetables can have higher quantities of vitamins and minerals when compared to fresh as they're frozen quickly protecting nutrient value. When choosing tinned vegetables, opt for those with no added salt or sugar.  
If you want to be in with the chance of winning a weeks supply of our tasty Vegetable Dishes, why not try out these top tips and tag us in your healthy dish pictures on social media, and use #5by5veg!