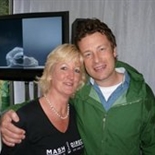 Celebrity Chef Jamie Oliver launched the seventh annual Taste of Dublin Food and Drink Festival at Iveagh Gardens in Dublin. Tracy was delighted to meet Jamie Oliver again during the official launch despite inclement weather.
Jamie is no stranger to Mash Direct. He visited the family farm in 2007 and was delighted to conduct a taste panel during his visit. He recognised Tracy at Taste of Dublin and was quick to congratulate Mash Direct on its success. He also discussed a joint venture regarding proposed new products.
Jamie cooked up a storm during the live cooking demonstration. We have added the recipes that he and Valentine Warner cooked at Taste of Dublin. Check the link out: http://www.tasteofdublin.ie/chefs/jamie-olivers-recipes/
Jamie is one of the most popular Celebrity Chefs in Ireland and the UK. His television programme has been broadcast in over 100 countries and his books have been translated into over 30 languages over the last 14 years. His 2010 book, Jamie's 30 Minute Meals, became the first million-selling book in the UK as well as the fastest-selling non-fiction book since records began.