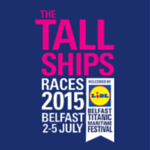 We had an amazing four days at the Tall Ships Belfast. Over the course of the festival the Mash team where sampling a range of products, having fun with our customers, enjoying the wonderful weather and taking in the sights and sounds around Belfast!
The highlight for us was the amazing feedback and comments from our customers and of course the festival's spectacular atmosphere!
We certainly made memories this summer and we hope everyone had as much fun as we did!