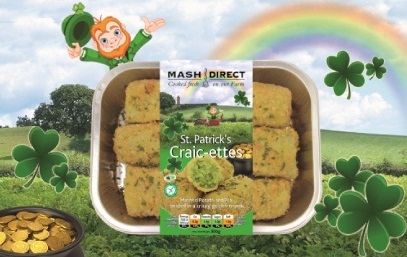 Did you know that our Great Taste Award winning Colcannon with its creamy mashed potatoes, cabbage and lashings of melted butter, has its own St Patrick's Day tradition?  Legend has it that charms would be mixed into the Colcannon and depending on which charm you pulled out, it was said to depict your future.  A ring meant that a wedding was in the offing whilst a coin denoted wealth.
We have even heard of people filling their socks with Colcannon and hanging them from the front door in the belief that the first man through the door would be their future husband, although we're not sure we'll be trying this as we prefer to eat our yummy Colcannon instead!
So tonight why not try making a traditional St Patrick's Supper with our quick and tasty Colcannon Mash.  Let us know what charms you put into it and who picked them out.
We plan on making a traditional Irish Stew (why not try Guinness's famous recipe Guinness and Beef Stew) with a side of our traditional Mash Direct Colcannon and our brand new St Patrick's Craic-ettes. Is it dinner time yet?
Happy St Patrick's Day Mash Fans!