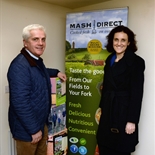 Mash Direct welcomed the Secretary of State, Theresa Villiers MP, to our farm this week.  The Secretary of State said that she was very impressed with our state of the art facilities and with our continued growth.
In a year when we have started exporting to the UAE and increased our availability across England, it was a fantastic honour to host the Secretary of State and show off some of our new products.  She said that she was especially fond of our Cheese and Onion Croquettes as well as our multi-award winning Red Cabbage and Beetroot.  We will have to make sure that we get some for her in Hillsborough in the near future!
Martin Hamilton, the founder and Managing Director of Mash Direct said "it is a huge honour to host the Secretary of State at Mash Direct.  We were hugely impressed with her drive to promote Northern Irish businesses along with Jim Shannon, MP".