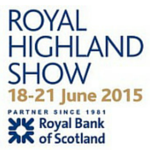 Well that is the Royal Highland Show over for another year! With a record breaking 188,449 visitors the Mash team had a fun-filled and action-packed four days! The show was most definitely an eclectic mix of the expected and unexpected!
We were in Scotland Larder Live sampling our yummy samples and soaking up all the show's extraordinary atmosphere! (And of course having a taste of some of Scotland's finest food and drink!)
The highlight of the show for us was meeting our Scottish customers and receiving lovely feedback from our Mash fans! Here are a couple of examples from our lovely customers:
'I purchased veggie burgers, broccoli with cheese sauce, potato cakes, croquettes and dauphinoise potatoes.

They are the best veggie products we have ever tasted.
Kind regards
Salma
'Hi I love your mash direct products and with having arthritis in my hands it makes life so much easier for me but I have recently joined slimming world and although turnip is a free food your Mash Direct is not.'
Thank you to everyone who popped by to say hello and taste our products! We hope you all enjoyed the show as much as we did.
We are already looking forward to the 2016 Royal Highland Show!
Make sure to check out our Facebook, Instagram and Twitter pages for lots of photos from the show.