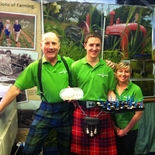 We had an action-packed four days at the spectacular Royal Highland Show last week.  There was royalty, free samples of our award winning products, celebrity chefs and the first taste of our brand new croquettes lines for our fans in Scotland.  It was quite an eventful few days!
The 'Greatest Show on Earth' (as proclaimed by the organisers of the Highland Show and frequenters of The Herdsman) opened to beautiful sunshine and in a break from tradition the weather remained largely pleasant as 170,000 people converged on Edinburgh during the event.  We handed out free samples to attendees who were especially appreciative of one of our newer lines, our Potato Cakes with Bacon.
The pictures below give an outline of what we were up to.  Lance had his kilt on, Lee had his trews and we all had some 'neeps' and 'tatties' to sample.  The  first celebrity to come by was Princess Anne on her wander around the show and she was closely followed by celebrity chef, Nick Nairn.  For some reason we always seem to attract the foodies!
This was the first time that we had brought our croquettes to Scotland and we look forward to bringing them over them much much more in the near future!