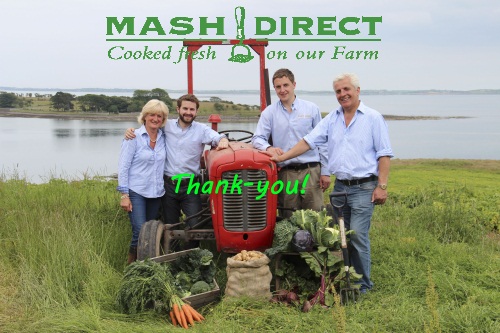 We love to hear from our Mash Fans.
It means a lot to us when you take the time to write to us and give us feedback on our products as we are truly passionate about creating nutritious and delicious food, which has the taste and texture of good wholesome food just like your Granny used to make.
Below are just some of the kind words that have been sent to us which we wanted to share with you all to show how much we appreciate them.
MASH DIRECT
Just to say your products are absolutely gorgeous & lovely fresh. Thank You, Keep up the great work. 5/5
Just to say a massive thank you! Found your products in Spinneys in Dubai and having a taste of home out here was simply amazing. Keep up the great work!!!
Greetings from kilkenny karen here I am a housewife and mother who is passionate about good food and love to support my local artisan food producers. I am writing to congratulate you on producing the best tasting food produce i have tasted since my childhood. As turnip is one of my favourite vegetables I am so pleased to inform you that mash direct turnip ticks all the rights boxes for me LOL I have recommended your food produce to family and friends who buy your products on a weekly basis as I do myself. I know this is a lot to digest LOL Keep up the fantastic work that you all do in producing such fantastic food products and thanks for awakening the taste buds of the Irish people. kind regards Karen
Hi! My name is Gabriella Wilson & I moved from Northern Ireland to England (Yorkshire) last August. I am OBSESSED with Mash Direct products, in particular the chilli baby bake potatoes. I stock up when I go back to N.I but my parents don't have room in their suitcase to bring them when they visit & my fiance's Mum caters to my fiance instead (King crisps and spice burgers - they're from Dublin). I am having a continuous craving for something Mash Direct and cant find anything in my local Morrisons or Tesco. It's driving me mad! Thanks, Gabriella.
Heard the report on your company this morning. I have been buying your products for years for two reasons. 1. Great natural taste 2 Calorie content compared to other products . The second point above may be worth putting forward a bit more I know you are not a diet product by any means , but for someone like myself who shed four stones it is great to have some quality staples for your fridge ! Many thanks Jeremy Hoy
I would like to congratulate yous on winning "best family business" at awards on Friday night . We both started our business in 2004 and good to see local businesses going from strength to strength
CHILLI BABY BAKES
Hello we have just bought some of your chilli baby bakes...we tasted them today in asda and they are marvelous....can you tell us please can we freeze them best regards Jock PS keep up the good work....(MARVELOUS)...
VEGETABLE BURGERS
Hi I bought your vegtable burgers today in dunnes cornelscourt dublin after a tasting. I have just finished eating them at home and i have to say they were so delicious compared to the frozen birds eye ones. I wanted to let you know how much I loved them and so do my family. Great quality product. ;-)
Holy guacamole!! You're Veggie Burgers are amazing!! Can't find them anywhere in Dublin, would you happen to know a retailer I can find them? Starvin just thinkin of the possibility!
POTATO CROQUETTES
Tried today our first Mash Direct product from Asda, where we were given a free sample. Normally do not buy ready products, but after a taster in the store, we purchased the potato croquettes, they were absolutely delicious. Certainly will look out for them again, well done, wish you every success with this product. Margaret Stonehouse.