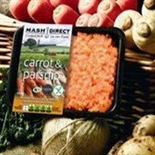 Please take just 30 seconds of your time to vote for Mash Direct Carrot and Parsnip to win the FoodNI People's Choice Award.  It's really simple to do and would mean so much to us all here at Mash Direct. Click this article for more info and the important link!
Voting is now Open for the People's Choice Awards.
 Click here to vote: http://www.nigoodfood.com/survey.aspx
We are right at the very top of the list so it is really easy to vote! One Click and its done!
 Please forward this link to all your contacts, copy and paste on your Social Media sites, put on your fridge door, desk, noticeboard – wherever you can!
We are passionate about the food we make and this year we have entered one of your favourites..........Carrot and Parsnip.
Hurry as Voting closes on 8th March.
 Thank you for taking the time to enter this competition!