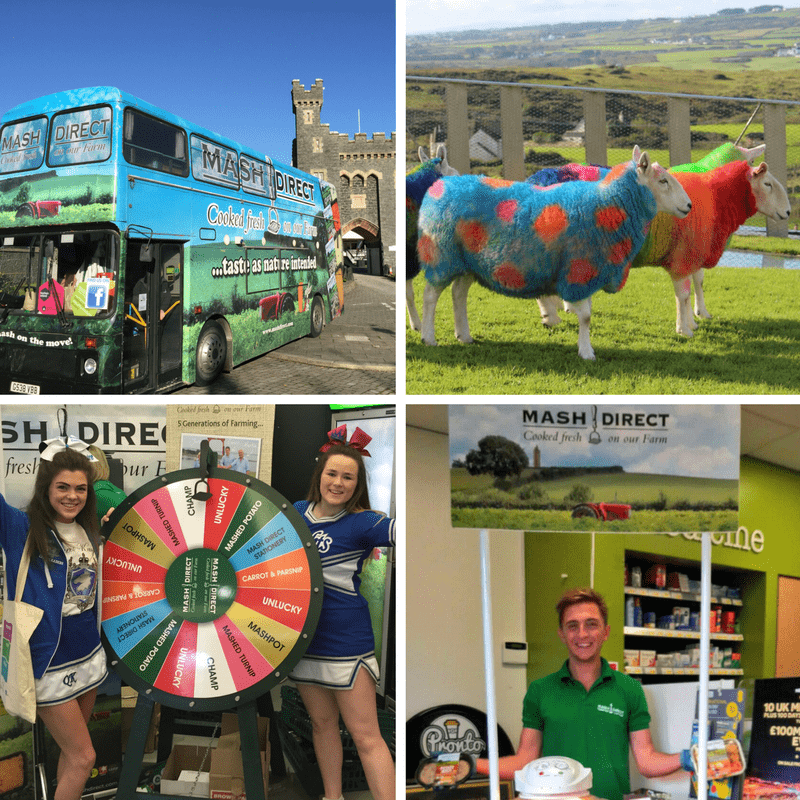 At Mash Direct we believe the best way to promote our farm fresh vegetables is to allow customers to taste them. That's why we sample our products throughout the UK & Ireland, so more people can taste the variety of products we have on offer.
Over the last 2 weeks our Mash Team have been busy throughout Northern Ireland, handing out a massive 20,000 samples, at a variety of events & stores. We've had an excellent time meeting all our Mash fans and allowing our customers to try some of our new products, including our Sweet Potato Fries and Sweet Potato Croquettes.
The first big event we attended over the last two weeks was the famous Hans Sloane Chocolate & Fine Food Festival at Killyleagh Castle. We brought along our Mash Bus and had an excellent weekend, we even managed to sneak in some chocolate sampling of our own!
Our team then moved onto the Queen's University Freshers Fair where we introduced 1,000's of first year students to our quick & convenient products. We also brought our Wheel of Fortune, giving the students a chance at winning some of our mash!
We then drove our Mash Bus up to the Giant's Causeway for the fourth annual Northern Ireland Potato Festival, to celebrate this year's excellent harvest. We were fortunate enough to get some excellent weather, so were joined by loads of local potato fans (and even some multi-coloured sheep).
Finally, the team sampled our products at a number of Booths, SuperValu and ASDA stores throughout the UK. It's always great to talk to customers as they do their shop and allow them to sample products that they may have never tried before.
Our Mash Team are regularly out at events and stores so keep an eye out for us. In the next few weeks we will be attending The Loaves & Fishes Festival in Ballywalter Park (Sunday 9th October) and The BBC Good Food Show (Friday 14th – Sunday 16th October) as it comes to Belfast for the first time.