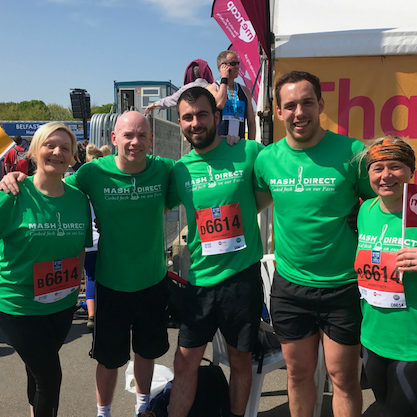 Our Mash Team were joined by over 15,000 athletes to take on the Belfast City Marathon 2017! Amid glorious sunshine our Mash Team took to the streets to complete the Marathon Relay in 3:58:45, a new Mash record for the relay! (Mash Team - Tim Acheson, Christine Cousins, Cathy Reavy, Jonny McCallion and Gary Armstrong).
The team were delighted to be running the Marathon relay in aid of Mencap Northern Ireland, with the logo proudly printed on their backs! The donations are still coming in for the team's efforts, so we hope to confirm a total soon.
Tim Acheson, Digital Marketing Exec and runner on the day, commented "What a fantastic day! The runners, sun and supporters were all out in force, which created an excellent atmosphere to run in. Our whole team had a great day and were delighted to finish in under 4 hours. I would like to thank everyone who donated to Mencap Northern Ireland. We can't wait for next year."
To watch our video from the Marathon, click here.