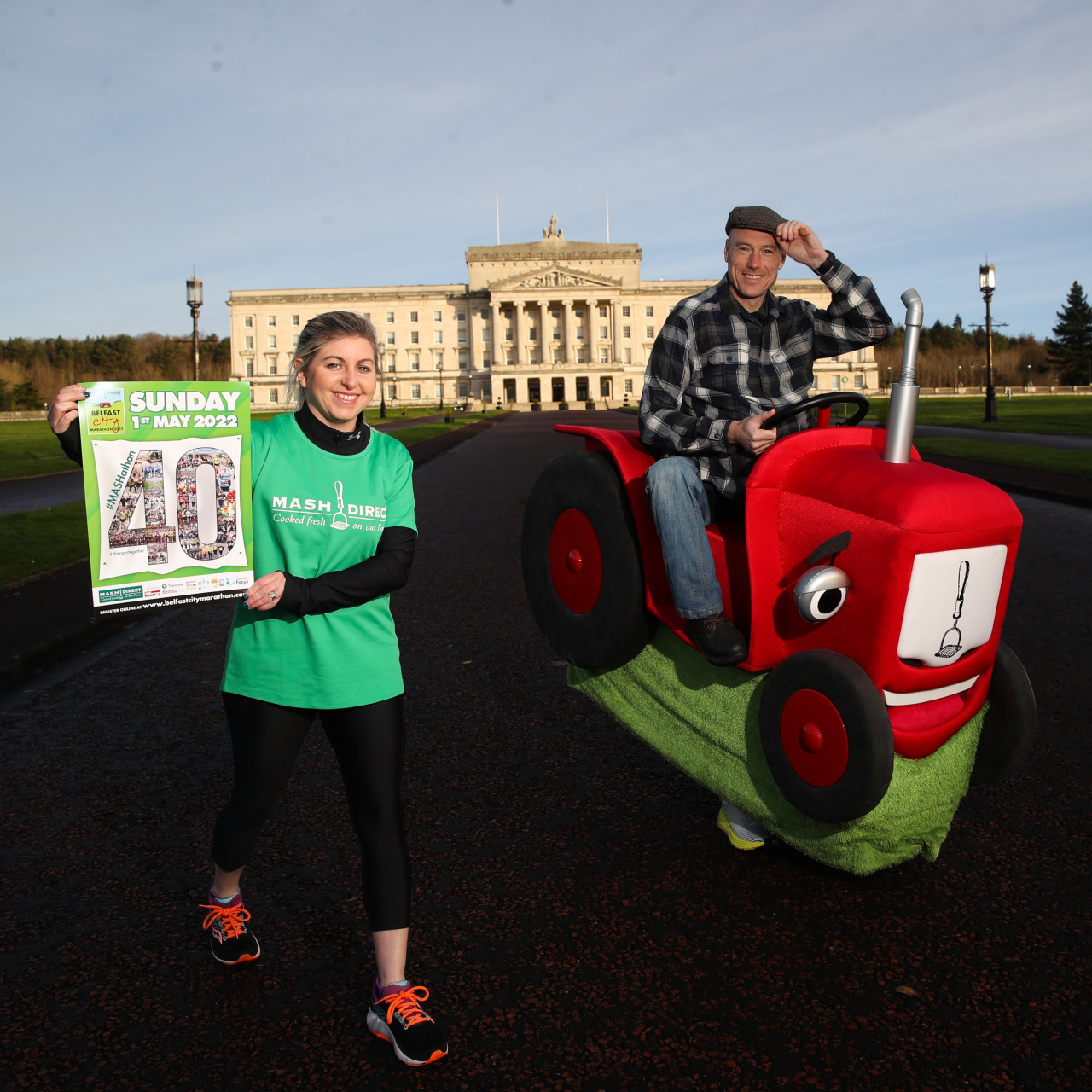 It's the New Year and like many, you may be thinking of New Year's resolutions, a healthy start or even a challenge for 2022. Well, our new ambassador Johnny Breen is doing just that by taking on the 2022 Mash Direct Belfast City Marathon as our Maris Mashcot!
An accomplished ultra-runner and marathon extraordinaire, Johnny will be running 26.2 miles with an extra 29kg in the form of our famous Mash Direct red tractor, Maris. He had this to say about the upcoming event:
"The Belfast City Marathon promises to be such a fantastic day out. It will be tough, Maris is definitely not a lightweight, but with the support of the always brilliant Belfast crowds and my fellow runners, I know I will make it."
Johnny will be fundraising for both the official Belfast City Marathon charity partner, Cancer Focus NI as well as USPCA where he works as a Fundraising and Events Officer.
Alongside Johnny and Maris will be our very own Marketing Manager Clare Forster running her first-ever full marathon!
''I will be running alongside Johnny to support him as he takes on the challenge of running the marathon in the Mash Direct Maris Mashcot. It is a really exciting year; this is an event that brings the best out in people. We would like to encourage as many participants as possible and members of the community to sign up and get involved in the walk, relay or marathon and bring communities together."
Check back with us throughout January and February as we share recipes, advice and lifestyle tips to help everyone get in tip-top shape whether running the full marathon, a leg of the relay or even walking!
The 40th Mash Direct Belfast City Marathon takes place on Sunday 1st May 2022 with a Marathon, Team Relay and 8 Mile Walk option available.  Enter now at www.belfastcitymarathon.com to enjoy the middle rate.  Final entry will end on Friday 8th April 2022.