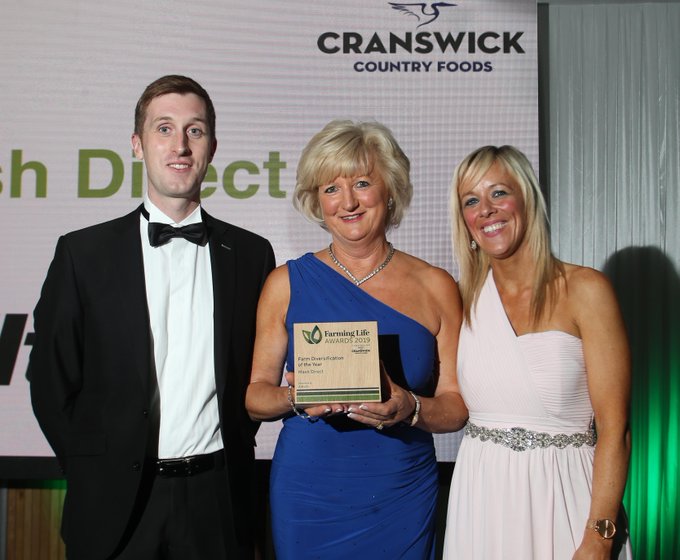 It's been a busy month for the Team at Mash Direct! The Farm Team have been harvesting our heritage varieties of vegetables, to create your favourite Mash Direct dishes, and our Events Team visited Kilkenny with the Mash Bus for the Savour Kilkenny Food Market.
We're also delighted to have received a few awards this month!
We were awarded the Farm Diversification of the Year Award at the Farming Life Awards 2019! The Northern Ireland farming industry turned out in force for the 9th annual Farming Life awards at La Mon Hotel and Country Club to celebrate excellence in all sectors of the industry.
Winning this award is a testament to all the hard work our team puts in to Mash Direct year after year, to create the Farm Fresh dishes you love!
You can read more about the Farming Life Awards here.
We were also runner up in the Rural Business Awards Regional Final (Wales and NI) in the Rural Food & Drink Business category. It is an honour to be awarded Runner Up and best of luck to Oriel Jones in the National Final.
Chief Operating Officer at Mash Direct, Jack Hamilton said, "We are thrilled to be Runners-Up in the Rural Food and Drink Category at the Rural Business Awards this year. It was fantastic being amongst the strong shortlist of finalists across all categories and celebrating the achievements of rural businesses.  It is amazing to get recognition for the work we are doing to grow the Mash Direct brand and it is a great boost to know that companies like Amazon support and recognise our achievements. All the best to the rural businesses going through to the National finals!"
You can read more about the Rural Business Awards here.
Finally, our Beer Battered Chips were Highly Commended in the Gluten Free Category of the Great British Food Awards 2019! You can read more about this here.
Make sure you check out our social media pages for regular Mash news and to keep up to date with the other awards we have been shortlisted for this year.