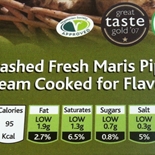 A new consistent system of front-of-pack food labelling is to be introduced in the UK and Mash Direct will be fully behind it.  People across the UK will now find it easier to make healthier choices about the food they eat with the introduction of a new front-of-pack nutrition labelling system, announced today by the Food Standards Agency in Northern Ireland.
We have been a supporter of this labelling system for years and welcome today's announcement by the Foods Standards Agency (FSA).
The FSA have outlined the plan:
"The new label introduced today is colour-coded red, amber and green, and is designed to help consumers see 'at a glance' what is in their food.
"The label also highlights 'percentage reference intakes' (formerly known as guideline daily amounts) to show how much fat, saturated fat, salt and sugars, and energy is in a food product."
Martin Hamilton, the Founder and Managing Director of Mash Direct said "Mash Direct adopted the 'Front of Pack Nutrition Label for Pre-Packed Products sold through Retail Outlets' shortly after its original inception to highlight our nutritional credentials. We are delighted to adopt the revised standard which offers improved clarity and a more uniform approach."
Gerry McCurdy, Director of the FSA in NI said: "This is fantastic news for local consumers who can get confused by the variety of labels that are currently on our food. They will be able to make healthier choices about what they eat and drink, regardless of where they shop.
"We all have a responsibility to tackle the rising tide of obesity, including the food industry. By having all major retailers and manufacturers signed up to the consistent label, we will all be able to easily see what is in our food. My vision is for more local companies to follow the lead of Mash Direct by signing up and using the label."