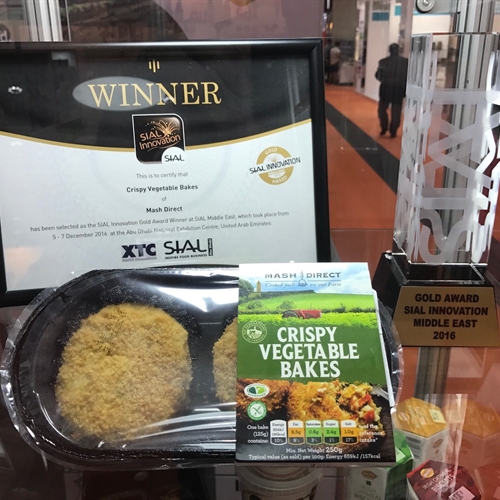 Heritage varieties of vegetables really are the best as judges favour tradition and provenance in food and name us the winner of the innovation award at the International Food Show, SIAL Middle East held in Abu Dhabi.
SIAL is a global event that showcases products that are at the forefront of innovation. Our Crispy Vegetable Bakes were awarded the highest accolade, the Gold Innovation Award out of 251 products.
The judges awarded Mash Direct for it's 'quality and innovative recipe which exceeded very high expectations.'
This year the show was held over three days in Abu Dhabi and attracted over 333,000 attendees, exhibiting industry leaders from over 105 countries and showcasing emerging trends in the food market.
Our Crispy Vegetable Bakes were noted for their distinct use of heritage vegetables that are grown for superior flavour and not their appearance and are also 100% gluten free.
"We wanted to make a vegetable burger that didn't masquerade itself as a 'meat-free alternative', we wanted to celebrate the flavour and texture of the vegetables used in the bakes. My family have been growing these varieties of vegetables on our farm for six generations and we're overjoyed that they are gaining appreciation on an international level." Says Martin Hamilton, Managing Director of the family-run farm in Northern Ireland.
A recent survey highlighted eating habits haven't changed much since the 1950s, with over 75% of British parents still serving traditional vegetables such as potatoes, carrots and peas on a daily basis, it's easy to see that the older varieties of vegetables are still a clear favourite when it comes to flavour.
Click here for more information on the awards!