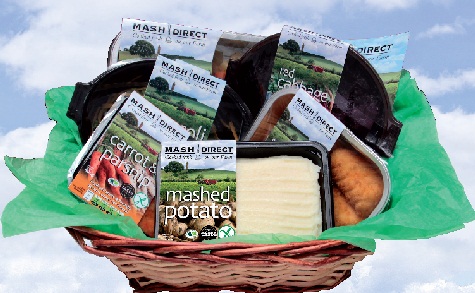 It's that time of year again when we're trying to shake off the post-Christmas excess and re-energise and enrich our lives with lots of good intentions. Having watched Bridget Jones for the umpteenth time we are motivated to write the golden list of resolutions (Mash Direct's Micheline has decided to kick her popcorn habit once and for all... We give her a week).
Not surprisingly, the most common New Year resolutions are to eat healthier, exercise more and lose weight, although persevering with these new goals often wanes after only a short while. But never fear as we, at Mash Direct, are here to help!
Our delicious range of quick serve, convenient vegetable and potato dishes are all gluten-free and display the nutritional content clearly on the front of pack. We were one of the first companies to introduce the traffic light system so that you can see at a glance what is in each of our products and we are committed to never having a red traffic light. We gently steam cook all of our vegetables to retain the nutritional benefits natural inherent within them, whilst ensuring the taste and texture of homemade food.
To help you with your new year, new start we are giving away a hamper packed full of your favourite, tasty and healthy Mash Direct products. Simply comment on our Facebook post or tweet us @mashdirect with your New Year's resolution and you could win. The closing date is Friday 9th January when the winner will be announced.