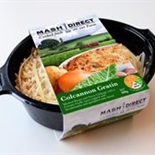 Hello Everyone. We have just launched two brand new products!  They are the first of  first of five this month so as you can imagine it has been a hive of activity at Mash Direct getting ready for the launch. The Colcannon Gratin and Potato and Leek Bake are perfect additions to the Make it a Meal Range.
Colcannon Gratin:
Mashed Potato and Savoy Cabbage with a Creamy Garlic sauce topped with breadcrumbs and sprinkled with cheese.
Potato & Leek Bake
Sliced Potato and Leek topped with a Creamy Garlic Sauce and sprinkled with cheese.