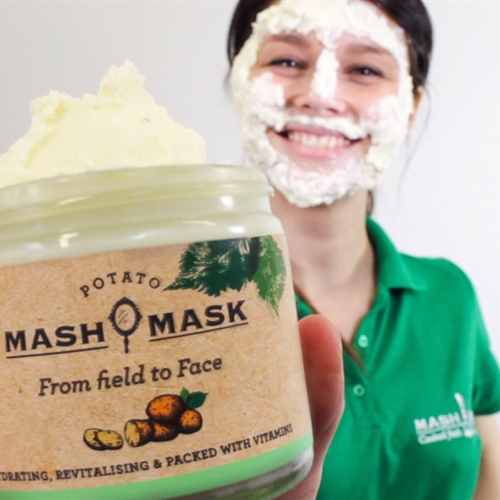 Move over high-cost, low-result face masks, there is a new beauty regimen in town and it's called… Mash Mask, the Mashed Potato Face Mask.
We are excited to be releasing our very own Mashed Potato Face Mask, made from 100% natural ingredients sourced from our family farm in Comber, Northern Ireland.
The humble spud has long been a staple in Irish diets, however, recent studies have shown that mashed potato, besides being a delicious accompaniment to almost any meal, is also an invigorating, natural, beauty enhancer.
Spudifrophene, a natural vitamin found in potatoes, has been proven to visibly revitalise tired skin cells to give a healthy, Irish glow. The benefits of our Mashed Potato Face Masks are also said to include: hydrating skin, helping to combat blemishes and doubles as a handy, on-the-go snack.
Company director, Tracy Hamilton says: "We first noticed the trend from pictures of celebrities and influencers on social media turning to natural and raw remedies to combat, revitalise and hydrate their skin. After conducting our own research, we discovered that the heritage varieties of vegetables we grow on our farm contain copious amounts of spudifrophene. As our products are gluten-free and free from artificial nasties, it seemed only fitting that we should branch out into the beauty sector.
To show the world that our award-winning Mashed Potato is just as good for your face as it is for your stomach." Our Mashed Potato Face Mask is the first of the range to launch and will be available to buy in store from 1st April 2017, with an RRP of £1.60 for 250ml.