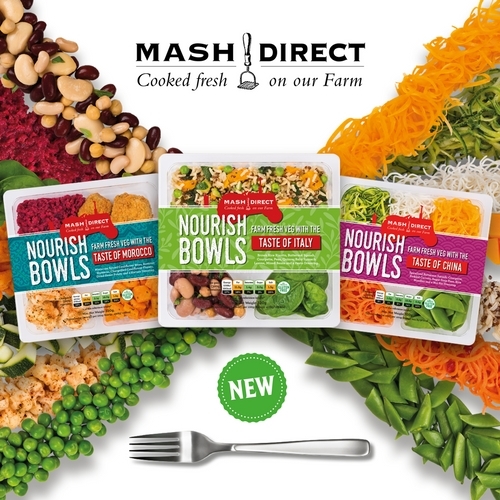 We are hoping to tantalise your taste buds with flavours from around the globe; in our new lunch time treat aimed at helping you eat more veg.
We have been hard at work in the kitchen developing new products to add to the plethora of 40 plus products already available on the marketplace.
A pioneer in convenient and healthy vegetable side-dishes, the sixth-generation farm have responded to changing consumer habits by launching an innovative lunch-time meal solution. Nourish Bowls are soon to be the most recent addition to our product range and are available to SuperValu, Centra, Mace, Nisa and independent stores. Drawing influences from flavours around the world the Nourish Bowls are available in three exciting flavours: Taste of Italy, Taste of China and Taste of Morocco.
Creating the concept of the Nourish Bowls came from consumer feedback at food shows throughout the year. The Nourish Bowls each boast a specific number of your daily portion of fruit and vegetables.
Speaking with Jack Hamilton: "We have found that people want a healthy lunch option that they can pick up off the shelf or even eat on the go. All of Mash Direct's products are gluten-free and don't have any red traffic lights, so, our customers know that they are eating a Mash Direct product that they can trust is good for them. The best thing about these Nourish Bowls is that they offer relief from the normal, boring sandwiches at your work desk and they help consumers achieve their recommended portions of fruit and veg for the day."
Mash Direct's Nourish Bowls are available now in SuperValu, Centra, Mace, Nisa and independent stores with an RRP of £2.99.