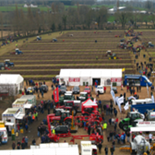 Mullahead Ploughing Match is a local event in Northern Ireland which has hit the headlines on an international level, bringing thousands of spectators to the area on the last Saturday in February each year. Competitors are keen to show their skills. The match has become the largest one day event of its kind in the British Isles. Ex World champions judge and more recent world champions take part. Over 150 tractor ploughing competitors take part in the various classes, from vintage to modern. 30 "Ferguson" enthusiasts compete to become "All Ireland Ferguson Ploughing Champion", up to 40 pairs of horses compete for the prestigious title of " Ulster Horse Ploughing Champion". At what is claimed to be the largest horse ploughing match in the world. Extensive trade displays, working demonstrations, tractor pulling and much more come together making a great day out for all the family.
Mash Direct are one of the proud sponsors of Mullahead Ploughing Match. Saturday 25th February!
Come and try some hot samples and be in with a chance of winning a food hamper at our stand in the Tesco Food Marquee.