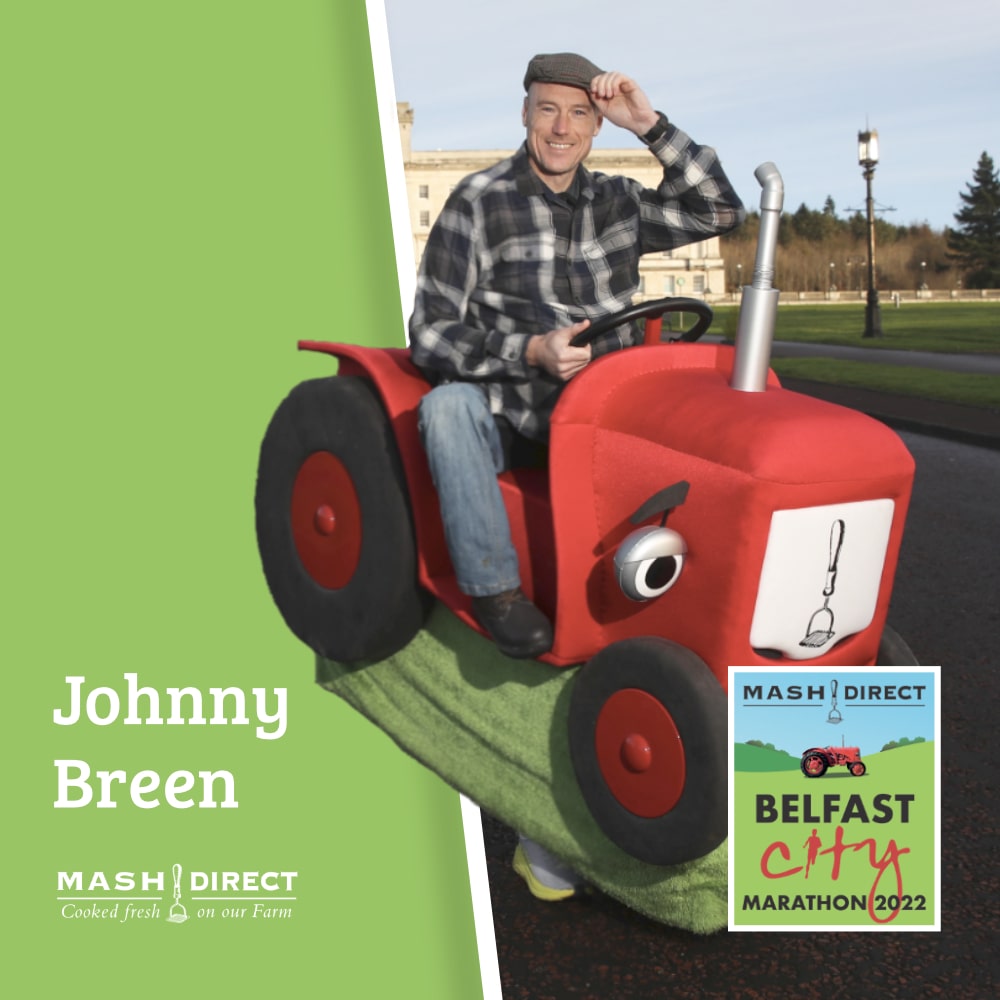 It's only 12 weeks until the 2022 Mash Direct Belfast City Marathon and some of our Super Mashers are training hard for the challenge of running the Marathon this year!
We have asked them all a couple of questions and for their top tips, and will be sharing their answers over the next few weeks! Next up, we have Johnny Breen, our new ambassador who is taking on the Marathon with an extra challenge as our Maris Mashcot!
1. Who are you and what is your role at Mash Direct? 
I am Johnny Breen. I am the Pilot of Maris the Mashcot at Belfast City Marathon 2022. I will be fundraising for both the official Belfast City Marathon charity partner, Cancer Focus NI as well as USPCA where I works as a Fundraising and Events Officer. As an accomplished ultra-runner, I am looking forward to the extra challenge of completing the 26.2 miles with the extra 29kg of Maris the Mashcot!
2. Why did you decide to run the Belfast City Marathon 2022?
In 2017, the Belfast City Marathon was my first marathon. I thought it was about time to support my local event and take part again. Having first enquired about the possibility of running Belfast in Maris back in 2017, I was delighted to be invited by Mash Direct to take part in the 2022 event. We cannot wait to experience the atmosphere, the fun, and the challenge that await on the day.
3. What is your top tip for someone who is interested in starting to run/for training?
Those who know me would agree that I could (and sometimes do) talk all day about running. However, there is one tip that for me comes above all others. If you get this right, your running will take whatever direction you want it to.  And that is to enjoy your running. Enjoy the training, enjoy the amazing people you will become friends with, enjoy the races, enjoy the achievements (and learn from the odd bump in the road). Do this, and running can become one of the most fulfilling and rewarding parts of your life.
We wish Johnny the best of luck with his training with Marris Mashcot!
Be sure to check back here next week for our next runner!