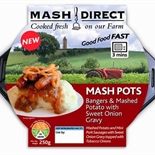 Do you ever get the Munchies?
 Maybe you've been working late or out running or whatever and  they creep up on you
 Suddenly you crave something incredibly tasty.
 Mash Pots from Mash Direct are made to beat the Munchies.
 Pork Sausages and Creamy Mash with caramelized onion gravy
Sweet Carrot and Parsnip Mash sprinkled with Crispy Bacon.
 And not forgetting Colcannon Gratin a perfect Munchie beater for vegetarians
 Pop a Mash Pot in the oven or micro and 3 minutes later the
 Munchies are no more
 Mash Pots from Mash Direct
 Just heat em up and eat em up
Mash Pots are now available in Tesco Northern Ireland Stores Sandwich Chillers Now!
Perfect for lunchtimes or a quick dinner these tasty products are for customers who want something a bit different. These products offer the same taste and texture of homemade food and the best thing is they are healthier than most prepacked sandwiches!