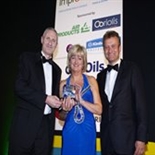 The best of the best were celebrated at the Food Manufacturing Excellence Awards 2011 in London last night with Mash Direct winning Chilled Foods Manufacturing Company of the Year!
The Food Manufacturer Excellence Awards recognise the best food and drink manufacturing companies, highlighting manufacturing achievements rathar than end products. Now in its 11th year, the Food Manufacturer Excellence Awards focus on all areas of the manufacturing process, such as new product development, category management, quality assurance, supply chain improvement, environmental management, process innovation and human resource development. Mash Direct were the only company from Northern Ireland to win on the night and we are proud to be recognised as a company that has created first rate standards in Food Excellence throughout all aspects of our business.
This is a great achievement for Mash Direct, congratulations to the whole team for their continued dedication and hard work which has made it possible to serve all our products at a world class level! Well done everyone!