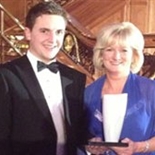 Mash Direct received the prestigious Marketing Excellence Award for Best Sales Campaign at an exciting awards ceremony held in Northern Ireland's top visitor destination, the Titanic Signature Building.
The awards are recognised by the leading international professional body, Chartered Institute of Marketing (CIM). Mash Direct were selected by a panel of Senior Marketing Professionals for demonstrating outstanding marketing and sales excellence for their innovative and quirky Monster Mash and Christmash campaigns.
Lance Hamilton (Sales Director) said, "We faced stiff competition in all categories this evening and it is a superb achievement to win this award. Our marketing and sales campaigns have played a key part in our growth and it is wonderful that they have been recognised by CIM."
Tracy Hamilton (Director) added: "Receiving this award reflects the huge efforts of our dedicated marketing team and it is great to be recognised for our effort and innovative marketing strategies."
CIM Ireland Chairman, John Edmund said: 'In the midst of tough economic times and a challenging marketplace we have witnessed outstanding marketing campaigns over the last 12 months and believe that companies in Northern Ireland should be rewarded for their marketing and sales excellence. It is our time to shine and highlight the positive impact individual organisations have had within their particular industry. Mash Direct was also a finalist in two other categories: Food and Drink Sector and Best Brand Development Campaign.