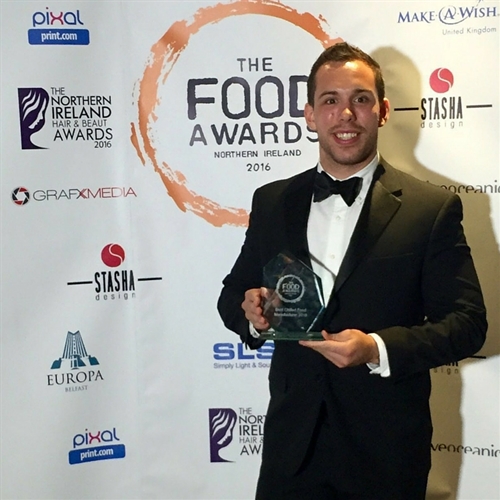 We were delighted to win the Best Chilled Food Manufacturer 2016 at the first ever Food Awards Northern Ireland on Monday night (20th June). The category was filled with some excellent Northern Irish brands such as the Abernethy Butter Company, Scotts Crispy Onions, The Good Little Company and Daily Bake. We were delighted to receive this prestigious award.  
The black tie ceremony was hosted in Belfast and took place at the Europa Hotel. Recognising the very best in food hospitality, the evening hopes to grow to be the biggest in the Northern Ireland food calendar.
As well as the awards, the event also helped to raise funds for the official charity partners, Make A Wish Foundation UK granting magical wishes to children and young people fighting life-threatening conditions.
Jack Hamilton, Marketing Director, commented, "We are delighted to win in the first year of this excellent award, highlighting the quality of our business and commitment to excellence in the manufacturing of our extensive range of natural and wholesome products. It is a real testament to the hard work that the whole team puts in every day."
Speaking before the event, Irfan Younis of event organisers Creative Oceanic, commented, "The tremendous amount of nominations received from the Northern Ireland public, is a testament to the hard work of all those working within the food sector. With fierce competition this year, we are looking forward to welcoming those who provide and supply us with gastronomic delights."
To see all the winners from the night or find out more about the awards, please click here.