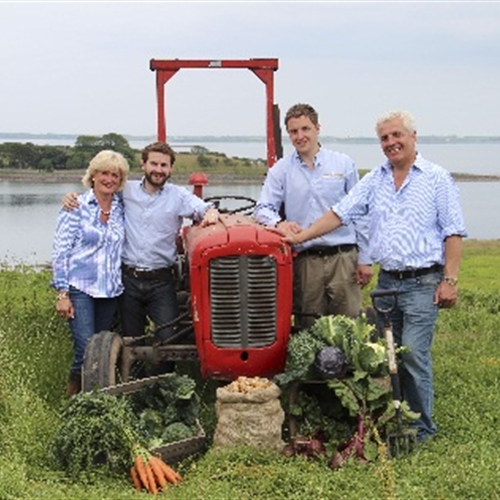 Champ is taking its place at the global top table.   This week Mash Direct Champ has hit the shelves in global retailer Carrefour in Dubai while at the same time the Hamilton family from County Down of Mash Direct have been named the Ulster winners of the FBD UN Year of the Family Farm Awards 2014.  The awards, run in association with the Irish Farmers' Journal, Irish Country Living, Teagasc and the Irish Farmers' Association, attracted entrants from all over the country, with judges visiting a shortlist of 25 farms before reaching their decision.
Commenting on this achievement, Martin Hamilton said, "We are absolutely thrilled to have won the Ulster heat of these prestigious awards. Our family have been farming close to the shores of Strangford Lough for six generations and we are immensely passionate about what we do. My wife Tracy and I had been successfully growing and selling vegetables for over 25 years before taking a huge leap into the unknown and setting up Mash Direct. We are now extremely proud to have both of our sons, Lance and Jack, join the business as it is very much a family run affair."
It has been an incredibly successful year for Mash Direct, having just celebrated the company's 10th anniversary, gaining listings in 363 Asda stores across the UK and most recently launching in the multinational supermarket giant Carrefour in Dubai to add to existing exports to the Middle East.
Martin Hamilton continued, "It is testament to all the hard work and commitment of everyone involved that we have just received orders from the Carrefour supermarket chain in Dubai. I am overwhelmed by the success we have had to date. 2014 has certainly been a whirlwind for our family and Mash Direct and we are deeply humbled by all of the support we have received from our friends, family and local community."
The UN has declared 2014 as the International Year of Family Farming in recognition of the critical role which the family farm plays in food security, preserving natural resources and sustainable development. Each of the four regional winners from Ulster, Connacht, Munster and Leinster will present their stories at the Women and Agriculture Conference in October before the top award is announced in November.