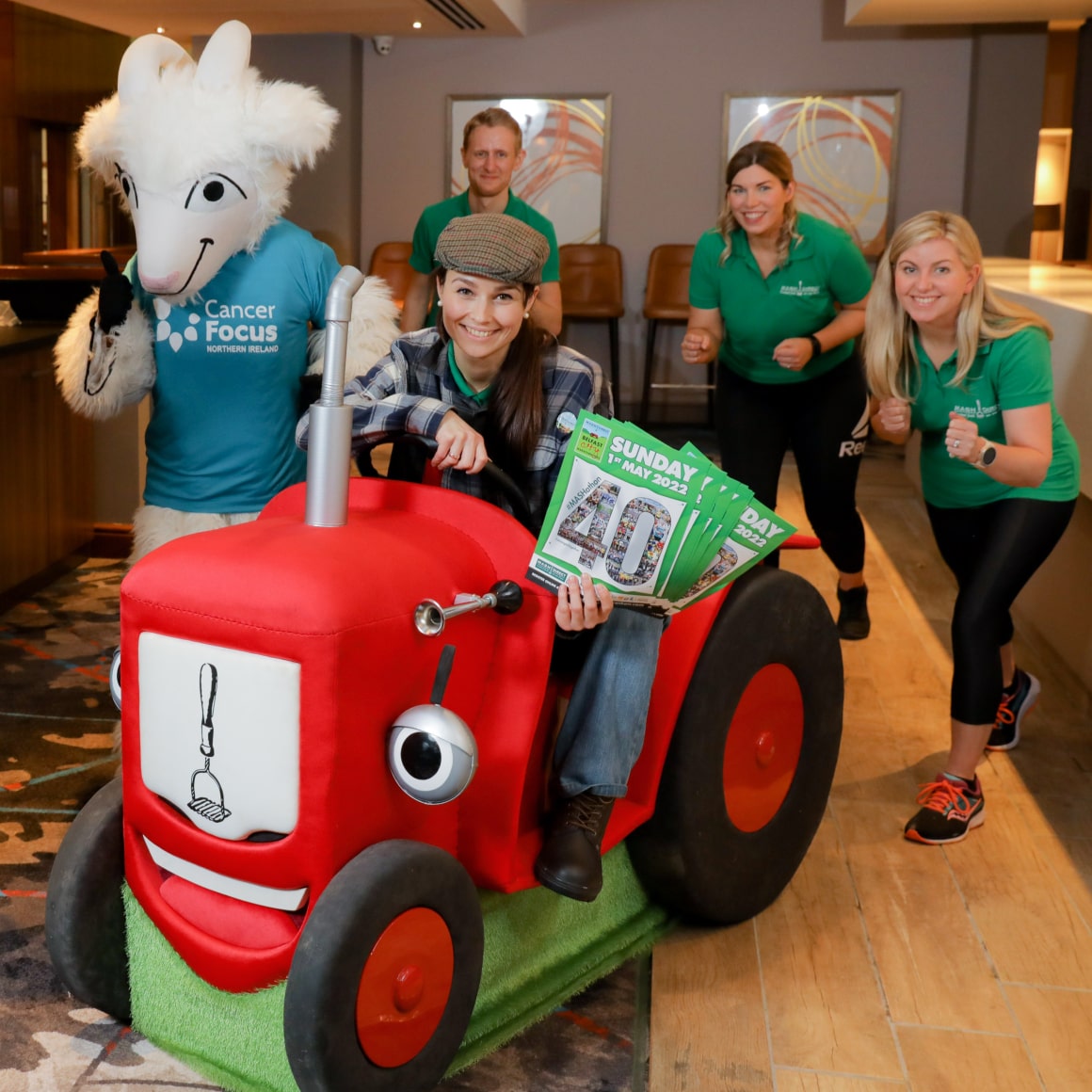 Ready, Steady, Go…Mash Direct Belfast City Marathon!
We're excited to let you in on a massive secret! We will be the brand-new title sponsor of the Mash Direct Belfast City Marathon in 2022!
Marathon Sunday will return to the May Bank Holiday Weekend in 2022, celebrating the 40th year of the Belfast City Marathon, and our first year as Title Sponsor.
The Belfast City Marathon first launched in 1982 as a marathon only event.  Fast forward to the year 2022, the event organisers are delighted to OPEN entries for the 40th event which now includes the Marathon, Wheelchair Race, Team Relay and 8 Mile Walk events.
The event was launched this morning (Tuesday 19th October) by John Allen, Chairman of the Belfast City Marathon, at the Clayton Hotel, Belfast.
Having been cancelled in May 2020 and moved to October 2021 due to the pandemic, the event will return to the traditional date on May Bank Holiday weekend, taking place on a Sunday once again with a full lineup of events to suit all levels of fitness.  All events will start in Stormont and finish in Ormeau Park.
Participants can expect exciting new initiatives for the event's 40th year, including an Expo and Pack Collection at the Titanic Exhibition Centre, Belfast, taking place over two days (Friday 29th to Saturday 30th April 2022) with a range of exhibitors suitable for the whole family to attend.
Furthermore, participants can expect a quicker pack collection experience through QR Code scanning.  The event organisers firmly believe this will cut back on any queues and prove to be a more enjoyable experience for entrants in 2022.
In addition, for the relay runners, there will be a return to chip timing for all participants with great team prizes to be confirmed in the coming months.  All participants of the Marathon, Team Relay and 8 Mile Walk will receive a quality Tech T-shirt (with the option to print their name on the t-shirt) and a commemorative medal (Marathon and Team Relay have the option to purchase an iTAB again).
As well as ourselves and Seopa beginning exciting new sponsorships, Belfast City Marathon is also delighted to confirm they will again be working closely with official charity partner, Cancer Focus Northern Ireland.  Participants are encouraged to be #StrongerTogether and run, walk or wheel for team Cancer Focus NI in 2022 to help more people survive from cancer.
John Allen, Chairman of the Belfast City Marathon organising committee, commented:
"After two years of cancelling and moving the May Marathon event, we are very thankful to be able to host the 40th year of the marathon in May 2022.  I'd like to take this opportunity to welcome our new title sponsor Mash Direct on board for what will be an exciting year of positive change and development as we see the event reach its 40th milestone.  I'd also like to thank all of our participants, sponsors and volunteers for their support through challenging times and look forward to seeing you all on Sunday 1st May 2022."
We are delighted to be working alongside the event organisers of the Mash Direct Belfast City Marathon in 2022. With a shared vision to encourage more people to lead more active and healthier lifestyles, we are excited to take over from previous sponsor Deep RiverRock, in what is known as a key event in the Northern Ireland sporting calendar.
Clare Forster, Mash Direct Head of Marketing says,
"We are excited to be at the start line today for the feel-good event of the year - the Mash Direct Belfast City #MASHathon in 2022.  
This is an event that brings the best out in people, so we jumped at the chance to team up and promote healthy eating.  We have lots of fresh vegetable dishes to help you to get your five a day plus local potatoes are a great way to carb load!  
Our farm is just a short jog away from the marathon route so this is a dream local partnership for us. We are looking forward to supporting an incredible team of organisers, participants and volunteers who have made the Marathon what it is today."
The Official Charity Partner for 2022 is Cancer Focus Northern Ireland.  Richard Spratt, Chief Executive of Cancer Focus NI, said:
"Cancer Focus NI is delighted to be the sole charity partner of the Belfast City Marathon in their 40th year.  We are encouraging participants to be #StrongerTogether in 2022 after a very tough couple of years.  All the money raised for Marathon Sunday will stay in Northern Ireland and will fund a new research project looking at the treatment of esophageal and pancreatic cancer – two cancers which at present have very low survival rates."
Entries are NOW OPEN at www.belfastcitymarathon.com via the Eventmaster online registration system.  Entries can be made via mobile or desktop with an early rate available until 31st December 2021.
The Mash Direct Belfast City Marathon is sponsored by Athletics Northern Ireland, Daily Mirror, Belfast City Council, Better, Cool FM (Downtown Radio and Downtown Country), Translink, Belfast Live, Tayto, Four Star Pizza and Seopa (Compare NI).  This year's official charity is Cancer Focus Northern Ireland.