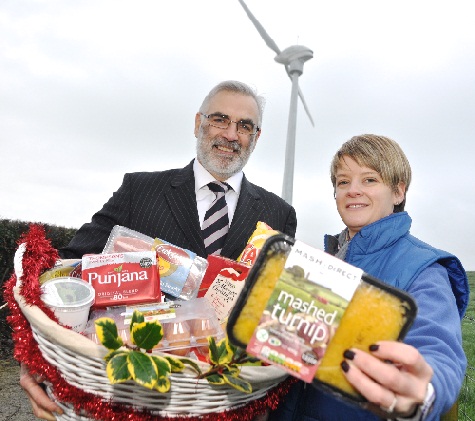 We were delighted to throw our weight behind Rural Support's biggest ever 'Christmas Hamper Scheme' aimed at helping rural families in need across Northern Ireland.
Mash Direct joined 16 other local agri-businesses, some of the biggest names in local business, to support the hamper appeal co-ordinated by wind energy company Simple Power. These generous donations have helped to ensure that Rural Support can provide even more hard-hit families with hampers across Northern Ireland.
Rural Support's Development Director, Jude McCann, said "I'm delighted with the support from Mash Direct and would like to sincerely thank them for their very kind donation. The efforts of Mash Direct, Simple Power, and other local businesses are much appreciated and have been instrumental in developing this scheme and enabling us to reach even more families this year. The support given is much needed and will make a great difference to rural families in need this year."
Rural Support provides a helpline for farmers and rural families that offers support through a listening and signposting service. It deals with a range of issues including physical and mental health, suicide risk, emotional distress, farming paperwork and bureaucracy. Rural Support has also recently launched a pilot project focusing on Financial Stress, providing one-to-one financial mentoring aimed at those experiencing debt or financial issues relating to farm business.
Wind energy company, Simple Power, works in partnership with farmers across Northern Ireland and is committed to an on-going partnership with the local charity, providing financial support alongside fundraising activities.
Simple Power Chief Executive, Philip Rainey, stated, "We are pleased by the support shown from Mash Direct for our Christmas Hamper Scheme in partnership with Rural Support. For many people, especially those in need, Christmas can be a very difficult time of year. The donated produce from local businesses like Mash Direct, alongside Rural Support's support service, will hopefully provide a little festive cheer to those in need this Christmas."
Martin Hamilton, Managing Director at Mash Direct, commented, "Rural Support provides much needed help and support to rural families across the Province and is a very valuable service. We were delighted to support their Christmas Hamper Scheme this year and hope that it will benefit local rural families in need."
Other generous donors supporting the campaign include: Ballyeamon Eggs, Cavanagh Eggs, Clandeboye Estate Yoghurt, Comber Potato Company, Dale Farm, DJ's Apple Juice, Karro Food Group, Moy Park, Punjana Tea, Rural Development Council, South Antrim Community Network, Tayto, Tesco, Ulster Farmers Union, and Belfast City Vineyard Church.